Roasted Chicken
Try This Classic Dish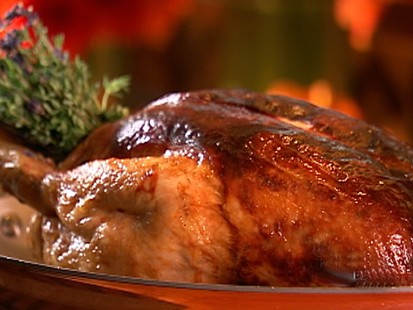 Learn the secrets to a great Thanksgiving stuffing from chef Daniel Humm.
From the kitchen of Daniel Humm
|
Ingredients
For the Brioche Stuffing:
4 cups butter, softened
5 cups brioche bread crumbs
1 tablespoon salt
For the Roasted Chicken:
4 whole chickens (4 pounds each) Brioche Stuffing
4 lemons
Salt
20 sprigs rosemary
8 cloves garlic, peeled
1 cup butter, softened
Cooking Directions
For the brioche stuffing:
Combine all ingredients in a mixing bowl. Divide the stuffing between 2 piping bags.
For the roasted chicken:
Working gently so as to not tear the skin, run your finger under the skin of the chickens, separating the skin from the meat. Be sure to leave the skin attached at the center of the sternum to maintain the shape of the breasts during roasting. Pipe the Brioche Stuffing under the skin of the legs and breasts, distributing it evenly to maintain the shape of the chicken. Prick the lemons all over with a paring knife. Season the inside of the birds with salt and fill each cavity with 5 sprigs rosemary, 2 garlic cloves, and 1 lemon. Truss the chickens with twine and refrigerate for 1 hour to set the stuffing. Preheat the oven to 430°F. Rub the chickens with the butter and season with salt. Place on a roasting rack and roast for about 45 minutes, rotating after 20 minutes. Rest the chickens for 15 minutes.
This recipe was styled by chef Karen Pickus for Good Morning America.
Recipe courtesy Eleven Madison Park.
Other Recipes That You Might Like