Fabio Viviani's Roasted Old Ladies
Simple Roasted Veggies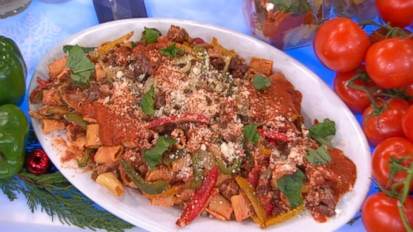 The owner of Chicago's Siena Tavern cooks up some Italian dishes perfect for the holidays.
From the kitchen of Fabio Viviani
|
Fabio Viviani of "Top Chef" fame stopped by "Good Morning America" to share dishes from his cookbook, "Fabio's Italian Kitchen." Try his recipe for roasted old ladies (vegetables) here.
Ingredients
2 tbsp. balsamic glaze
½ cup olive oil
3 cloves garlic, smashed with a garlic press
2 tbsp. fresh oregano, finely chopped
3 tsp. fresh basil, finely chopped
Salt and pepper
2 Large red onions, sliced in rounds
1 Yellow bell pepper
1 Red bell pepper
1 Green bell pepper, seeds discarded, cut into 4 pieces lengthwise
2 Skinny or Japanese eggplants, quartered lengthwise and cut in half again
3 Zucchini, cut into 1/3 inch-thick rounds
3 Carrots, cut into 4 pieces lengthwise
3 tbsp. extra virgin olive oil
1 Cup breadcrumbs mixed with the zest of 2 lemons
Cooking Directions
Preheat the oven to 450 degrees F.
Whisk the balsamic glaze and the olive oil in a bowl large enough to hold all the vegetables. Add the garlic, oregano, basil, and salt and pepper to taste and whisk again.
Toss all the vegetables into the bowl with the dressing and let them sit for about 30 minutes, mixing every once in a while. Distribute them into 2 baking dishes and roast for about 15-20 minutes or until the edges are golden brown. Remove and serve with the extra virgin olive oil and the lemon breadcrumbs on top.
Recipe courtesy of Fabio Viviani and Chef David Blonsky of DineAmic Group.
This recipe was styled by chef Karen Pickus for Good Morning America.
Other Recipes That You Might Like