Home
>
GMA
>
Recipes Home
>
Marc Murphy's Roasted Squash & Grilled Red Onion Quinoa Salad with Pumpkin Seed Vinaigrette
Marc Murphy's Roasted Squash & Grilled Red Onion Quinoa Salad with Pumpkin Seed Vinaigrette
Healthy Holiday Salad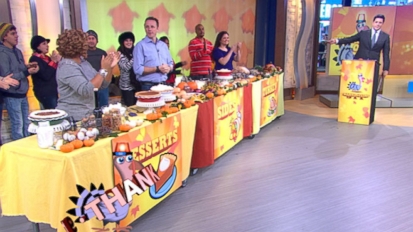 Alex Guarnaschelli, Sunny Anderson and Mark Murphy answer your questions.
From the kitchen of Marc Murphy
|
Make this your best Thanksgiving ever. Chef Marc Murphy stopped by "Good Morning America" and shared his go-to holiday recipe for Roasted Squash & Grilled Red Onion Quinoa Salad with Pumpkin Seed Vinaigrette.
Ingredients
3 pounds butternut squash, cut into 3/4-inch cubes (skin on)
3 medium red onions, cut crosswise into ½-inch thick rounds
1/2 cup extra-virgin olive oil (divided)
Kosher salt and black pepper
1/2 pound red quinoa
2 cloves of garlic (smashed)
1/4 cup sherry vinegar
1 tablespoon Dijon mustard
1/3 cup pepitas
1 tablespoon fresh thyme
1/2 cup vegetable oil
1 pound California spinach, torn into 1-inch pieces
¼ cup chopped parsley
Garnish: pepitas
Cooking Directions
Preheat oven 450°F.
Toss squash with 2 tablespoons olive oil in a shallow baking pan and spread cubes in one layer. Season with salt and pepper and roast in middle of oven, stirring once halfway through roasting, until squash is just tender, about 20-25 minutes. Let cool.
Heat grill pan over high heat until hot but not smoking. Toss onions with 2 tablespoons of olive oil and season with salt and pepper. Place onions on grill pan and cook until they have grill marks and are tender, about 10 minutes. Remove onions from pan and when cool enough to handle chop into ½-inch pieces.
In a 2 quart pot bring 1 cup of salted water to boil and add 1/2 cup quinoa. Return water to boil, cover and reduce heat to a simmer. Cook until water is absorbed, about 10 to 12 minutes. Remove from heat, fluff and let stand for 15 minutes.
In a blender place garlic, vinegar, Dijon, pepitas and thyme and puree. With the motor running slowly pour in remaining olive oil and vegetable oil.
In a large bowl combine the squash, red onions, quinoa and spinach. Pour dressing over salad and toss. Garnish salad with parsley and pepitas.
Recipe courtesy Marc Murphy.
Other Recipes That You Might Like