Ali Larter's Roasted Tomato Linguini
An Italian Classic With a Twist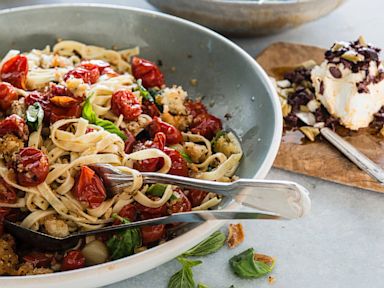 From the kitchen of Ali Larter
In her debut cookbook, "Kitchen Revelry," actress Ali Larter shows that, while looking effortless takes some effort, cooking is not about being perfect—it's about having a great time! Try her easy, flavorful take on the classic Italian pasta, linguini.
Ingredients
1 pound cherry tomatoes
¼ cup extra-virgin olive oil
8 whole garlic cloves, peeled
2 teaspoons sugar
½ cup dried bread crumbs
1 tablespoon dried Italian seasoning
1½ teaspoons kosher salt
16 ounces linguine
Fresh basil leaves, for garnish
Cooking Directions
Preheat the oven to 450°F. Toss the tomatoes, olive oil, garlic, and sugar in a 2-quart broiler-proof baking dish.
Mix the bread crumbs, Italian seasoning, and salt in a small bowl. Sprinkle the bread crumb mixture over the tomatoes. Bake until the tomatoes begin to soften, about 15 minutes. Remove the dish with the tomatoes from the oven and preheat the broiler. Broil the tomatoes until brown and blistered in spots, about 5 minutes. Remove from the broiler.
Meanwhile, cook the linguine in a large pot of boiling salted water until just tender but still firm to bite. Drain. Return the linguine to the pot. Add the tomato mixture to the linguine and toss. Transfer the pasta to a large bowl. Garnish with basil leaves and serve.
Reprinted from the book KITCHEN REVELRY. Copyright © 2013 by Ali Larter. Photographs copyright © 2013 by Amy Neunsinger. Published by St. Martin's Press.
Recipe Summary
Main Ingredients: cherry tomatoes, olive oil, bread crumbs, linguini
Course: Dinner, Main Course, Pasta, Starch