Robert Irvine's Vegetable Pizza
Give Your Pizza a Nutritious Boost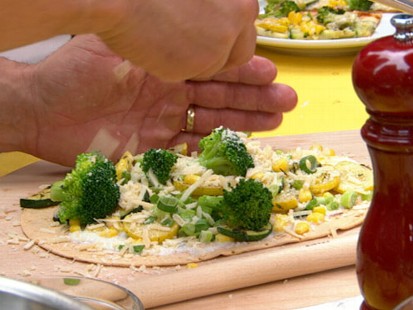 Host of "Restaurant Impossible" serves up a Father's Day feast.
From the kitchen of Robert Irvine
Give your pizza a boost of nutrients with hearty vegetables. These are fun to make with the kids!
Ingredients
For the sauce:
4 cups milk
2 cups cauliflower florets
1 tablespoon salt
1 teaspoon ground white pepper
1/4 cup finely grated Parmesan
For the vegetables:
2 tablespoons grapeseed oil
1 cup yellow squash (cut in 1/4-inch half-moons)
1 cup zucchini (cut in 1/4-inch half-moons)
1 teaspoon salt
1/2 teaspoon ground black pepper
1 teaspoon chopped fresh thyme
For the pizza:
2 store-bought whole wheat flatbreads—flat outs brand
1 cup cooked corn kernels
1 cup steamed broccoli florets
2 cups reduced-fat shredded Parmesan
1/4 cup green onions, thinly sliced
Cooking Directions
Preheat the oven to 400 degrees F.
For the sauce: Over medium heat in a saucepan, bring the milk, cauliflower, salt and white pepper to a simmer. Reduce the heat and allow to cook for 7 to 8 minutes. Remove from the heat and puree until smooth. After pureeing, add the Parmesan and puree again.
For the vegetables: In a saute pan over high heat, add the oil and allow to heat until on the verge of smoking. Then reduce the heat to medium and add the squash, zucchini, salt and black pepper. Cook, stirring until softened, 3 to 4 minutes. Remove from the heat and add the thyme.
For the pizza: Place the flatbreads on a cookie sheet and spread the sauce on top, evenly coating from edge to edge. Add half the zucchini, squash, corn, broccoli and top with shredded Parmesan. Once built, repeat the process with the second pizza. Bake until crisp, 7 to 8 minutes. Once cooked, remove from the oven and top with the green onions. Slice and serve.
Recipe courtesy Robert Irvine's eat! Robert Irvine's nosh, All rights reserved 2012
This recipe was styled by chef Karen Pickus for Good Morning America.
Recipe Summary
Main Ingredients: milk, cauliflower, salt, squash, grapeseed oil
Course: Dinner
More Info: Kid Friendly