Rocco DiSpirito's Caramel Apples
Try This Healthy Version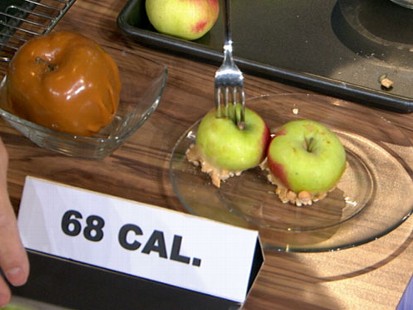 Chef Rocco DiSpirito whips up some healthy and delicious treats for the holiday.
From the kitchen of Rocco DiSpirito
|
I love this recipe for caramel apples. The caramel is not caramel at all, which means huge calorie savings and no refined cane sugar. Plus, by using the milk powder, I get an extra protein kick.
Ingredients
¼ cup plus 2 tablespoons nonfat dry milk powder
1 cup water
2 tablespoons coconut nectar
4 packets 100% natural Stevia sweetener (powder)
¼ teaspoon plus 1/8 teaspoon xanthan gum
10 sprays butter-flavored cooking spray
4 lady apples, washed and towel dried
1 graham cracker square, crushed
Cooking Directions
Preheat the oven to 350° F. Place the milk powder on a nonstick baking sheet and shake it out to an even layer. Toast the milk powder in the oven until it is the color of a deep caramel, about 5 minutes, stirring once or twice.
Add the toasted milk powder to a blender and add the water, coconut nectar and stevia. Cover and blend on high until well combined. Turn the blender to low and add the xanthan gum; blend until thick, about 1 minute. Add the butter spray and blend just to combine. With a rubber scrapper, scrape the sauce into a small bowl.
Coat the bottom half of each apple generously and evenly with caramel. Then sprinkle with the crushed graham cracker and place in a small cup or dish to allow the caramel to set up.
Tips:
Make sure the apples are nice and dry before coating them with the caramel. This will help the caramel stick better.
Per serving:
60 calories, 0.3 g fat (0g sat, 0g mono, 0g poly), 1mg cholesterol, 40mg sodium, 14g carbohydrate, 2g fiber, 2g protein
Recipe courtesy Rocco Dispirito
This recipe was styled by chef Karen Pickus for Good Morning America.
Other Recipes That You Might Like