Rocco DiSpirito's PBJ Cookies
Decadent Peanut Butter and Chocolate Cookies for Only 55 Calories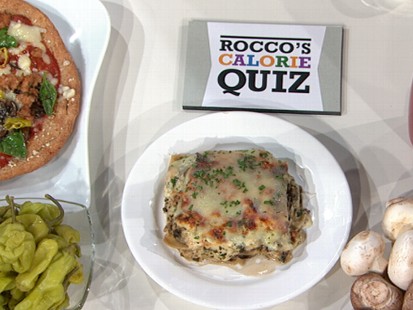 The chef's new diet will keep taste buds happy while keeping meals healthy.
From the kitchen of Rocco DiSpirito
"When I think of great duos, several pop into mind: Batman and Robin, Dean Martin and Jerry Lewis, Brooks and Dunn, and the best of all, peanut butter and chocolate. If you love peanut butter and chocolate, now you can get your fix but without the calories. (I didn't take out all the calories; I left in 55). Everyone knows that these are two tastes that go great together, but this confection takes the combo to a whole new level of healthy decadence. While there isn't any jelly in the cookie, I got my fruity sweetness from dried cranberries. Feel free to use mini peanut butter chips in these cookies if you can find them."
-- Rocco DiSpirito
Ingredients
Nonstick cooking spray
1/4 cup dried cranberries
1/2 teaspoon vanilla extract
1/ 3 cup unsweetened cocoa powder, sifted
1 cup canned white cannellini beans, rinsed and drained
1/4 cup reduced-fat peanut butter, such as Better'n Peanut Butter
2 tablespoons agave nectar
3 large egg whites
4 packets (about 4 grams) powdered stevia, such as SweetLeaf
1/4 cup puffed millet cereal, such as Arrowhead Mills
1/4 cup peanut butter chips
Cooking Directions
Preheat the oven to 375 degrees F. Line 2 baking sheets with parchment paper and spray lightly with cooking spray. Set aside.
In a small bowl, add the cranberries. Pour in hot water to cover and allow to soak.
Meanwhile, in the bowl of a food processor, combine the vanilla, cocoa, cannellini beans, peanut butter, and agave. Blend until the mixture is smooth, about 3 minutes, scraping down the side of the bowl halfway through blending.
In the bowl of a mixer fitted with a whip attachment, beat the egg whites until they form soft peaks. Gradually beat in the stevia. Continue to beat the whites until they are creamy and nearly stiff. Add one-third of the egg-white mixture to the cocoa-bean mixture in the food processor. Blend to combine, about 30 seconds. In 2 batches, fold the lightened cocoa mixture into the egg whites until they are almost fully combined.
Drain the liquid from the cranberries and then add the cranberries to the batter. Add the millet. Fold the batter until the cranberries and millet are evenly dispersed and the cocoa mixture is completely incorporated.
Drop mounded spoonfuls of the batter onto the prepared sheets. Spread the batter out to form cookies about 2 inches in diameter. Sprinkle the peanut butter chips on top of the cookies.
Bake for 12 to 14 minutes, rotating the pans one turn halfway through baking. Using a metal spatula, transfer the cookies to wire racks to cool.
Makes 20 cookies; 55 calories each
Per Serving (1 Cookie):
55 calories
1g fat (1g sat / 0g mono / 0g poly)
0mg cholesterol
69mg sodium
9g carbohydrate
1g fiber
3g protein
Recipes from "NOW EAT THIS! DIET," by Rocco DiSpirito. Copyright 2011 by Flavorworks. Used by permission of Grand Central Publishing, Inc. All rights reserved.
This recipe was styled by chef Karen Pickus for Good Morning America.
Recipe Summary
Main Ingredients: cocoa powder, white cannellini beans, reduced-fat peanut butter, egg whites, millet cereal, peanut butter chips
Course: Dessert, Snack
More Info: Kid Friendly, Low Fat, Low Calorie