Rocco DiSpirito's Red Velvet Chocolate Squares
Healthy Twist on a Signature Dessert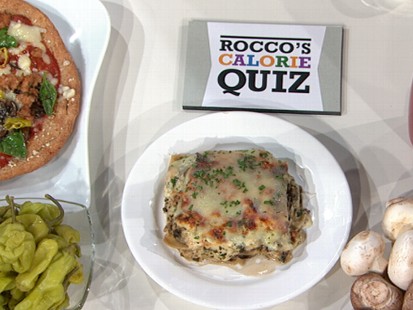 The chef's new diet will keep taste buds happy while keeping meals healthy.
From the kitchen of Rocco DiSpirito
"The recipe for red velvet cake has been around since the 1920's, when the cake was the signature dessert at the Waldorf-Astoria hotel in New York City. The cake captured my heart –and it plays hard to get. It took me forever to come up with a magical adaptation that would capture the richness of its namesake. These bars get their health benefits, velvety texture, and deep red color from a paste made of beets, red beans, cocoa powder, and red food coloring. I took a slight departure from the traditional red velvet cake flavor by adding a touch of almond extract, and that, my friends, is where the magic happened."
-- Rocco DiSpirito
Ingredients
Butter flavored nonstick cooking spray
½ cup chopped canned beets, drained
7 ounces (about 1 cup) canned red beans, drained and rinsed
½ cup unsweetened cocoa powder
¾ cup liquid egg substitute
3 tablespoons whole wheat pastry flour
¾ cup agave nectar
1 tablespoon unsalted butter, melted
1 teaspoon vanilla extract
½ teaspoon almond extract
2 teaspoons natural red food coloring
Cooking Directions
Preheat the oven to 350 F. Spray an 8 x 8 x 2-inch baking dish with cooking spray.
Combine the beets, beans, and cocoa powder, egg substitute, and flour in the bowl of a food processor. Process until the mixture is smooth, about 2 minutes, scraping down the bowl halfway through.
Add the agave, butter, vanilla, almond extract, and food coloring. Process until all of the ingredients are combined, about 1 minute.
Pour the batter into the prepared baking dish, and smooth the top with a spatula. Bake for 20 minutes, turning the dish halfway through the baking time. Turn down the temperature of the oven to 300 F and bake for another 5 to 8 minutes., until a toothpick inserted in the center comes out with a little bit of soft batter clinging to it. It should not come out clean, if it does, it's overcooked.
Let the brownies cool completely in the baking dish on a wire rack. Then put them in the fridge for at least 3 hours. When they're cold, cut them into 12 squares and serve. Refrigerate any leftovers.
Serves 12; 106 calories each
Recipes from "NOW EAT THIS! DIET," by Rocco DiSpirito. Copyright © 2011 by Flavorworks. Used by permission of Grand Central Publishing, Inc. All rights reserved.
This recipe was styled by chef Karen Pickus for Good Morning America.
Recipe Summary
Main Ingredients: beets, red beans, cocoa powder, liquid egg substitute, vanilla extract, red food coloring
Course: Dessert, Snack
More Info: Low Fat, Low Calorie