Rocco Dispirito's Sweet Potato Fries
Try This Healthier Version Today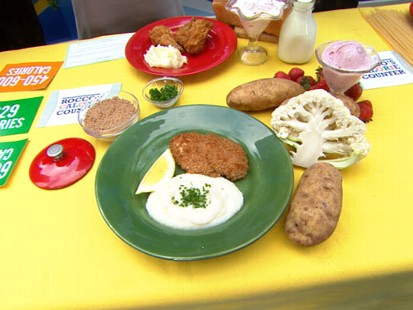 "Now Eat This!" author explains how to shave calories off many popular dishes.
From the kitchen of Rocco Dispirito
This recipe saves you 369 calories than if you ate regular french fries. Try this delicious variation today!
Ingredients
2 medium sweet potatoes
salt
nonstick cooking spray
2 tablespoons fresh thyme leaves
freshly ground black pepper
sweet paprika
cayenne pepper
Cooking Directions
Slice the sweet potatoes lengthwise into ¼ inch thick slices. Cut the slices into ¼ inch wide sticks. Place the sweet potatoes in a large bowl, and sprinkle generously with salt. Let stand for about 20 minutes to release some of their moisture.
Meanwhile, preheat oven to 450 degrees. Place a wire rack on a baking sheet and set aside.
Spread the potatoes out on a paper towels to absorb any excess moisture. Then place them in a large bowl, and spray them with a cooking spray. Sprinkle with the thyme and salt, pepper, paprika, and cayenne to taste. Spread the potatoes out on the prepared baking sheet.
Bake the fries until they are golden and tender, 35 – 45 minutes
This recipe was styled by chef Karen Pickus for Good Morning America.
Recipe courtesy of Rocco Dispirito.
Recipe Summary
Main Ingredients: sweet potatoes, cayenne pepper, fresh thyme leaves, black pepper
Course: Starch, Snack
More Info: Kid Friendly, Low Fat