Emilie Bousquet's Rocky Mountain B-"high"-son Burger
Battle of the Burgers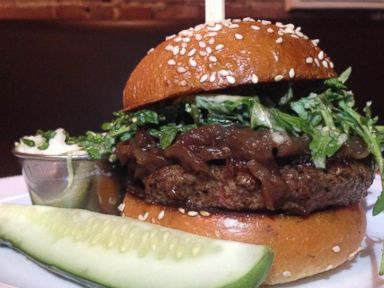 From the kitchen of Emilie Bousquet
|
Two restaurants in New York City and one in Las Vegas are getting in on the game day action with battling burgers, one themed for the Broncos and the other for the Seahawks. Check out the Broncos-inspired burger here.
Ingredients
5 pounds ground buffalo
1/2 cup plus 2 tablespoons Worcestershire sauce
2 tablespoons Tabasco sauce
1/4 cup garlic powder
Salt and pepper
Cooking Directions
Season ground buffalo with Worcestershire sauce, Tabasco sauce, garlic powder, salt and pepper. Form into 5 ounce burgers. Cook to desired temperature. Heat Breckenridge Vidalia Onions (recipe below) and dress the wild arugula with Black Pepper Parmesan Vinaigrette (recipe below). Toast buns. Top burger with onions and the arugula salad.
Breckenridge Vanilla Porter Braised Vidalia Onions
1 1/2 pounds sliced Vidalia onions
1/2 cup sugar
1/2 cup Breckenridge vanilla porter
1/4 cup balsamic vinegar
Caramelize the sliced onions in a pot until chestnut brown (not burnt). When the onions are 95% caramelized, add the sugar, vinegar and porter and reduce until syrupy.
Black Pepper Parmesan Vinaigrette
12 hard-boiled eggs (Bring water to boil, slowly add eggs, cook for 5 minutes and shock in ice bath.)
1 quart Parmesan cheese, grated
6 cloves of garlic
6 tablespoons Dijon mustard
1/2 cup lemon juice
1 quart (1/2 olive, 1/2 canola) oil
Salt & pepper
Remove eggs from shells and blend with garlic, mustard and lemon juice. Add Parmesan and process until smooth. Slowly add oil while blending to create an emulsion. Season to taste with salt and freshly ground black pepper.
Recipe courtesy of GO Burger Bar & Grill.
Other Recipes That You Might Like