'Impatient Foodie' Elettra Wiedemann's Rossellini spaghetti recipe
Add this pasta dish to your weekday summer meal list.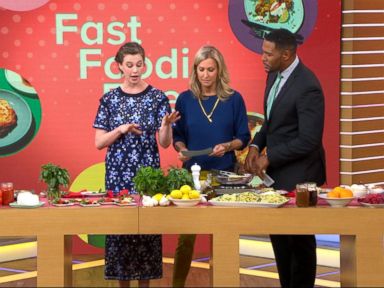 Elettra Wiedemann prepares three weekday meal fixes for the summer that cut down time for a fast and easy summer feast.
From the kitchen of Elettra Wiedemann
Elettra Wiedemann is a former fashion model whose blog and new cookbook, both titled "Impatient Foodie," feature shortcuts and recipes for busy people who want delicious meals. Wiedemann shared this recipe for spaghetti from her grandfather, Roberto Rossellini.
Ingredients
Kosher salt
1 pound spaghetti
1 cup finely chopped fresh basil
1 cup finely chopped fresh flat leaf parsley
1 cup finely chopped fresh chives
1/4 cup finely chopped fresh sage
1/2 cup finely chopped fresh mint
1/4 cup finely chopped fresh oregano
Zest of 1 lemon
1 cup extra virgin olive oil
1 garlic clove, minced (optional)
1 cup grated Parmigiano-Reggiano cheese
Freshly ground pepper
Cooking Directions
Bring a large pot of salted water to a boil. Add the spaghetti and cook according to the package directions.
Meanwhile, place all the chopped herbs in a serving bowl with the lemon zest, olive oil, garlic (if using), half of the Parmigiano, and a generous pinch of salt and pepper.
Drain the spaghetti and transfer immediately to the serving bowl with the herbs. Toss together until the spaghetti is evenly coated with olive oil and herbs.
Top with the remaining Parmigiano before serving and enjoy immediately.
Recipe courtesy Elettra Wiedemann.
Recipe Summary
Main Ingredients: basil, parsley, spaghetti, cheese, oregano
Course: Main Course