Runner's World Cookbook's Banana Oat Energy Bars
A Vegetarian, Vegan, And Low-calorie Recipe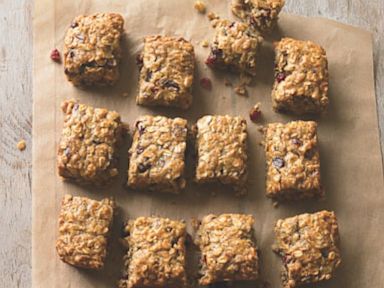 From the kitchen of Lydia Maruniak
These DIY energy bars are guaranteed to taste way better than any bar that comes in a plastic wrapper- and they're made with ingredients you can actually pronounce. They're also filling and satisfying, making them a better on-the-go choice than your typical snack food. If you don't like walnuts or dried cranberries, substitute any nuts or dried fruit.
Ingredients
¾ cup chopped walnuts
2 very overripe bananas
½ cup vegetable oil
1 cup unbleached cane sugar or granulated sugar
½ teaspoon vanilla extract
1 ½ cups old-fashioned rolled oats
¾ cup unbleached all-purpose flour (or replace up to ½ cup with whole wheat flour)
¾ teaspoon baking powder
½ teaspoon salt
½ teaspoon ground cinnamon
½ teaspoon ground nutmeg
¼ teaspoon baking soda
¾ cup dried cranberries
Cooking Directions
Preheat the oven to 350? F. Coat an 8" x 8" baking pan with cooking spray.
Spread the walnuts on an ungreased baking sheet and toast in oven for 5 to 8 minutes, or just until fragrant. Meanwhile, mash the bananas in a medium mixing bowl. Add the oil, sugar, and vanilla extract. Mix until smooth.
In a large mixing bowl, combine the oats, flour, baking powder, salt, cinnamon, nutmeg, and baking soda. Add the banana mixture and stir until just combined. Fold in the walnuts and cranberries, being careful not to overmix.
Pour the mixture into the prepared pan and spread evenly. Bake for 25 to 30 minutes, or until the top is browned and a toothpick inserted comes out nearly clean. Allow to cool completely before cutting.
Courtesy of Runner's World Cookbook.
Recipe Summary
Main Ingredients: oats, bananas, flour
Course: Snack