Runner's World Cookbook's Stick-With-You Polenta
A Fast, Gluten-free, Vegetarian Meal For Both Pre- and Post-Run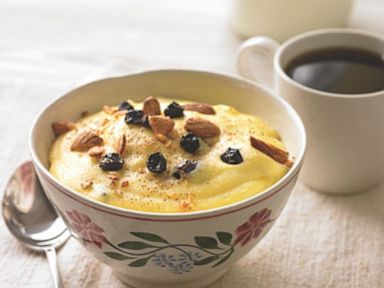 From the kitchen of Liz Applegate, PhD
When you come back home ravenous after a long run and need to eat immediately, this is the recipe to make. Ready in just 10 minutes, it's loaded with carbohydrates to restock your energy stores and protein for muscle repair. Plus, the dried blueberries and almonds provide a health-boosting antioxidant punch.
Ingredients
2 ½ cups fat-free milk
½ cup instant polenta
¼ cup dried blueberries
¼ cup chopped almonds
2 Tablespoons honey
Ground cinnamon
Cooking Directions
Pour the 2 cups of milk into a medium saucepan and bring to a boil. Whisk in the polenta, stirring for 5 minutes, or until thick.
Stir in the blueberries, almonds, and honey. Sprinkle with cinnamon to taste. Divide the polenta between 2 bowls and top each with the ¼ cup of remaining milk.
Courtesy of Runner's World Cookbook.
Recipe Summary
Main Ingredients: polenta, blueberries, almonds
Course: Breakfast, Lunch
More Info: Vegetarian