Rockit Burger Bar's Salmon Burger
A Better Burger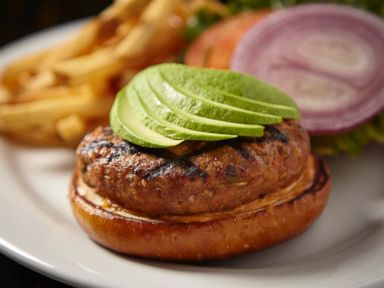 From the kitchen of Rockit Burger Bar
|
Rockit Burger Bar may have made headlines with the famous mac & cheese bun burger, but the Chicago restaurant is lightening things up just in time for your New Year's resolutions. The restaurant shared its salmon burger recipe on "GMA LIVE!" this week to kick off 2014 in the most delicious way possible.
Ingredients
2 pounds fresh atlantic salmon fillet, skin and pin bones removed
2 tablespoons thinly sliced scallions
1/4 teaspoon fish sauce
1/4 teaspoon sriracha sauce
1/4 teaspoon fresh ground black pepper
1/4 teaspoon kosher salt
Vegetable oil
4 each wheat hamburger buns, toasted
2 tablespoons pickled ginger
Pickled red onions (recipe below)
Wasabi Aioli (recipe below)
Cooking Directions
Finely chop half of the salmon, and roughly cube the other half of the salmon. Combine all salmon in a bowl with scallions, fish sauce, sriracha, salt and pepper. Mix until well combined. Divide into four balls and form into patties. Chill for at least for an hour.
To assemble: Heat 4 tablespoons of vegetable oil in a large nonstick sauté pan over medium heat. Carefully place each patty into the pan. Cook on each side for approximately 7 minutes on each side, until each side is lightly crispy and golden and patty is cooked through. Spread a half tablespoon of the wasabi mayo onto each bun, top with a salmon patty. Top each patty with a half a tablespoon of pickled ginger and a half tablespoon of pickled red onion. Serve!
Pickled red onions
1 cup red onions, medium diced
1/2 cup red wine vinegar
1/4 cup red wine, such as cabernet
1 tablespoon granulated sugar
Combine all ingredients in a small sauce pan, heat to a boil and lower to a simmer. Simmer for about 10 minutes until liquid is reduced to almost dry. Remove from heat and allow to cool.
Wasabi mayo
1 tablespoon wasabi powder
1/2 tablespoon soy sauce
1/2 tablespoon cold water
1/4 cup mayonnaise
Whisk together the wasabi powder with soy sauce and water to form a paste. Whisk in mayonnaise. Chill.
Recipe courtesy of executive chef Amanda Downing of Rockit Burger Bar and Rockit Bar & Grill in Chicago.
Other Recipes That You Might Like