Karla Martinez's Salsa Fresca (Pico de Gallo)
Make Your Own Salsa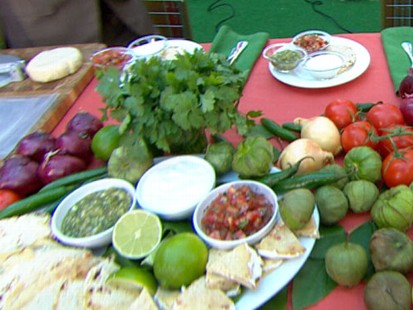 The host of "La Cocina de Karla" cooks up her favorite Latin American dishes.
From the kitchen of Karla Martinez
Karla Martinez, the co-host of Univision's "Despierta America," helped celebrate the launch of the new TV network, Fusion, by dishing up some of her Latin recipes on "Good Morning America." Find out how to make her recipe for salsa fresca below.
Ingredients
3 diced tomatoes
1/4 cup diced red onion
1/2 cup freshly chopped cilantro
Juice of 2 limes
Salt and pepper
Cooking Directions
In a bowl combine all ingredients.
This recipe was styled by chef Karen Pickus for Good Morning America.
Recipe printed with permission of Karla Martinez.
Recipe Summary
Main Ingredients: tomatoes, red onion, cilantro, limes
Course: Appetizer/Starter, Sauces and marinades, Dip