Sandra Lee's Baked Mashed Potatoes
An Inexpensive and Delicious Side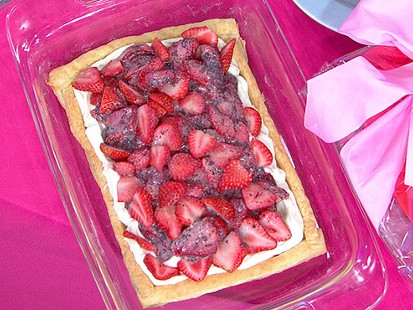 Sandra Lee's delicious Beef Wellington with romantic strawberry tart dessert.
From the kitchen of Sandra Lee
|
This side dish is perfect for Thanksgiving and won't break the bank.
Ingredients
6 strips bacon $1.02
Fresh bread crumbs from 10 slices white bread $0.80
Nonstick cooking spray $0.00
2 cups milk $0.32
4 tbsp. unsalted butter $0.24
5 pounds russet potatoes $3.49
4 ounces cream cheese, at room temperature $0.68
1 cup shredded cheddar cheese $1.00
3 tbsp. fresh chopped chives $0.33
Kosher salt, to taste $0.00
Black Pepper, to taste $0.00
$7.88/$0.98 per person
Cooking Directions
In a large skillet over medium heat, cook the bacon until crisp. Drain on brown paper. remover all but 1 tablespoon of fat from the pan. (Reserve 1 cup bread crumbs for Round 2 Recipe). Add the remaining bread crumbs and cook until they are lightly toasted, about 5 minutes. Set aside.
Preheat the over to 350 degrees F. Spray a 9x13-inch baking dish with nonstick spray. In a small saucepan over low heat, warm the milk and butter.
Wash the potatoes well, cut them into 1-inch cubes, and put them into a large pot. Cover the potatoes with water, add salt, put the pot over high heat, and bring it to a boil. When the potatoes are cooked through, about 20 minutes, strain them, put them back into the pot, and mash them. (Reserve 2 cups mashed potatoes for Round 2 Recipe).
Add the cream cheese to the potatoes and continue to mash. Slowly stir in the warm milk just until incorporated and fold in the grated cheese. Over-mixing the potatoes will cause them to become gluey. Season to taste with salt and pepper.
Put the potatoes into the prepared baking dish, crumble the bacon over the top, and sprinkle evenly with the bread crumbs. Bake until heated through and golden brown on top, about 25-30 minutes. Serve garnished with chives.
This recipe was styled by chef Karen Pickus for Good Morning America.
Recipe courtesy of Sandra Lee's cookbook, "Money Saving Meals and Round 2 Recipes".
Other Recipes That You Might Like