Sandra Lee's Cheddar Burgers with Red Onion Compote
Make Your Independence Day Barbecue a Good One With This Recipe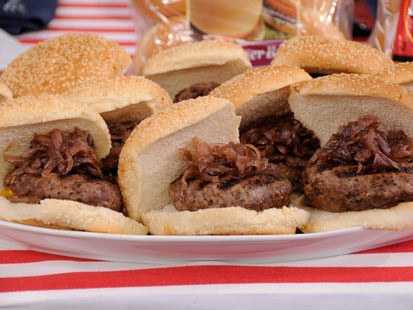 From the kitchen of Sandra Lee
Semi-homemade chef Sandra Lee cooks up delicious summer grilling recipes for Independence Day.
Ingredients
For Red Onion Compote:
2 red onions, sliced ($1.34)
1/2 cup brown sugar ($.17)
12 ounces beer ($.59)
Salt and pepper to taste
For Burgers:
3 pounds ground beef (1lb=$1.99)
3 tablespoons grill seasoning ($.25)
1/2 cup shredded cheddar cheese ($.50)
1/2 cup beer ($.20)
4 hamburger rolls, toasted ($.64)
Romaine lettuce ($.25)
Cooking Directions
For Red Onion Compote:
In a medium saucepan add the onions, brown sugar, ale,1 cup water and season with salt and pepper.
Stir to combine. Bring to a boil then reduce to a simmer.
Simmer, stirring occasionally for about 1 hour or until the mixture has thickened and has reduced to about 2 cups.
Transfer to a bowl and set aside to cool completely.
For Burgers:
In a large bowl, combine 3lb ground beef, grill seasoning, and beer.
Divide into thirds. Using 1/3 lb beef shape into eight thin patties slightly larger than the buns.
(Reserve rest of ground beef for Round 2 Meatloaf)
Place two tablespoons each of cheese in the center of four of the patties.
Place the remaining four patties on top of the patties with the cheese. Press the edges of the patties together to seal in the cheese. Place on platter, cover and refrigerate if not cooking immediately.
Set up grill for direct cooking over high heat. Oil grate when ready to start cooking. Place patties on hot oiled grill.
Cook 4 to 5 minutes per side to medium (160 degrees F).
Serve over lettuce on hot toasted buns topped with Red Onion Compote. (Reserve leftover compote for Round 2 Meatloaf)
Indoor:
Prepare Red Onion Compote and burger patties as directed.
Preheat broiler.
Place patties on a wire rack over a foil lined baking sheet or broiler pan. Broil 6 to 8 inches from heat source for 4 to 5 minutes per side for medium (160 degrees F).
Serve as directed.
Recipe Summary
Main Ingredients: cheddar, ground beef, cheese, red onion,
Course: Lunch, Dinner