Sandra Lee's Pumpkin Mousse
The Perfect Fall Dessert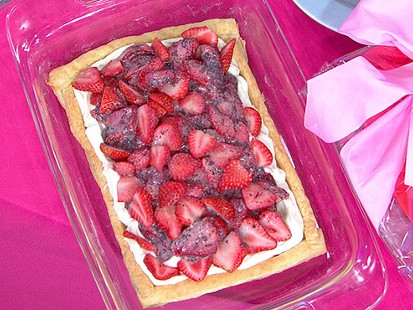 Sandra Lee's delicious Beef Wellington with romantic strawberry tart dessert.
From the kitchen of Sandra Lee
This easy and inexpensive dessert is perfect for the holidays.
Ingredients
1 (15-ounce) can pumpkin puree $1.59
½ cup brown sugar $0.18
1 ½ teaspoons pumpkin pie spice $0.45
1 tbsp. vanilla $0.44
2 ½ cups heavy cream, chilled $2.80
1 tbsp. granulated sugar $0.01
4 ounces cream cheese $1.00
$6.47/$0.81 per person
Cooking Directions
In a large bowl, using an electric hand mixer, beat the cream cheese pumpkin puree, brown sugar, 1 teaspoon pumpkin pie spice and vanilla until it becomes smooth and creamy.
In another large bowl, using an electric hand mixer, beat 2 cups of the cream until it forms soft peaks. Add 1/4 of the whipped cream to the pumpkin mixture and stir to lighten it. Gently fold in the remaining whipped cream. Spoon the mousse into dessert glasses, cover and refrigerate for at least 2 hours or overnight.
When you are ready to serve, whip the remaining cream with granulated sugar. Top each mousse with a dollop of whipped cream and a sprinkling of the remaining 1/2 teaspoon pumpkin pie spice.
This recipe was styled by chef Karen Pickus for Good Morning America.
Recipe courtesy of Sandra Lee's cookbook, "Money Saving Meals and Round 2 Recipes".
Recipe Summary
Main Ingredients: pumpkin, cream, cream cheese
Course: Dessert