Sandra Lee's Turkey Soup
A Great Turkey Soup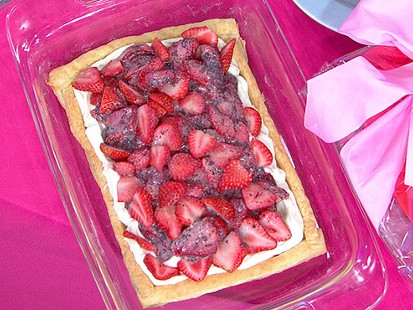 Sandra Lee's delicious Beef Wellington with romantic strawberry tart dessert.
From the kitchen of Sandra Lee
|
Try this warm turkey stock recipe.
Ingredients
Reserved turkey parts $0.00
3 springs of fresh thyme $0.03
2 bay leaves $0.07
2 tbsp. canola oil $0.06
1 chopped medium onion $0.28
2 chopped stalks celery $0.30
1 chopped carrot $0.16
1 parsnip, cut in half and sliced $0.33
1 tbsp. chopped garlic $0.05
¼ cup chopped fresh parsley $0.08
Kosher salt, to taste $0.00
Black Pepper, to taste $0.00
$1.36 in extra ingredients
Cooking Directions
In a large pot over high heat, add the turkey parts and cover with 4 quarts of water. Add the thyme, bay leaves, and a big pinch of salt, and bring to a boil. Reduce the heat to simmer, skimming any scum that rises to the surface. Cook until the turkey is cooked through and the liquid has reduced a bit, about 45 minutes. Remove the turkey from the pot. When it is cool enough to handle, shred the meat and discard the skin and bones. Strain the broth.
Wipe out the pot, put it over medium-high heat, and add the oil. When it is hot add the onions, celery, carrot, and parsnip, season with salt and pepper. And cook until softened, about 7-8 minutes. Add the garlic and cook for another minute. Add he turkey broth and bring to a simmer. Add the meat to the post and let it simmer to warm through, about 10 minutes. Remove from the heat. Stir in the parsley just before serving.
This recipe was styled by chef Karen Pickus for Good Morning America.
Recipe courtesy of Sandra Lee's cookbook, "Money Saving Meals and Round 2 Recipes".
Other Recipes That You Might Like