Sandra Lee's Sandwich Cookie Bars
Semi-Homemade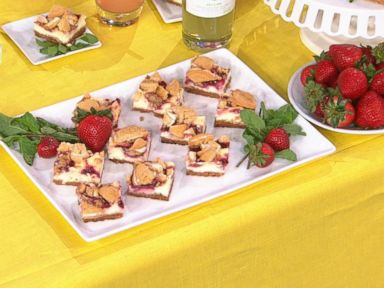 How to use "Sandra Lee Cocktail Time" to add a little "zing" to tasty spring recipes.
From the kitchen of Sandra Lee
Sandra Lee fans are very familiar with her famous "cocktail time," when the semi-homemade celebrity chef puts her spin on cocktail favorites. Now, Lee is bottling her concoctions and incorporating them into recipes, such as in her Sandwich Cookie Bars recipe below.
Ingredients
24 vanilla sandwich cookies, divided
3 tablespoons unsalted butter, melted
2 cups chopped strawberries
1/4 cup Sandra Lee Cocktail Time Strawberry Margarita
1 tablespoon plus 1/2 cup sugar
8 ounces cream cheese
1/3 cup sour cream
1 large egg
Cooking Directions
Preheat oven to 350 degrees F.
Place 12 sandwich cookies in a food processor and process to fine crumbs. Add melted butter and process until combined.
Line an 8-inch baking pan with parchment paper. Press crumb mixture into bottom of pan. Bake for 10 minutes, or until set. Remove and let cool. Reduce oven temperature to 325 degrees F.
In a small saucepan, combine strawberries, strawberry margarita, and 1 tablespoon sugar. Bring to a boil, reduce to a simmer, and cook until fruit breaks down and sauce thickens, about 12 minutes. Set aside.
In a medium bowl, with an electric mixer, beat together cream cheese and remaining 1/2 cup sugar until smooth. Add sour cream and egg and beat until smooth.
Pour cream cheese mixture into baked crust. Drizzle strawberry sauce over the top. Bake for 35 minutes, or until just set. Remove from oven and crush remaining cookies and sprinkle over the top. Press pieces in gently. Let cool completely. Cover and transfer to refrigerator to chill, about 4 hours.
Remove from pan before cutting into 16 bars.
Recipe Summary
Main Ingredients: vanilla sandwich cookies, strawberries, cream cheese
Course: Dessert