Santa Fe Bagel Thins™ Bagel
A Good Way to Start the Morning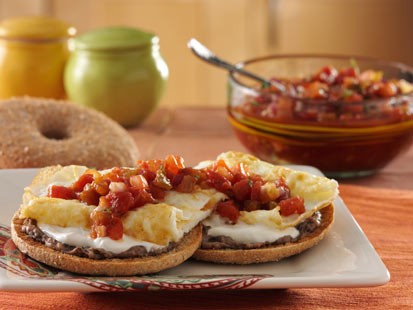 From the kitchen of Thomas' English Muffins
Ingredients
1 Thomas'®100% Whole Wheat Bagel Thins™ bagel
3 egg whites
4 tbsp. black bean hummus (store-bought or homemade*)
2 tbsp. low-fat sour cream
4 tbsp. tomato salsa
Nonstick cooking oil spray
*Homemade black bean hummus:
1 can (15 oz.) black beans, rinsed and drained
1/2 garlic clove, chopped
2 tbsp. fresh lemon juice
2 tbsp. extra virgin olive oil
1/4 tsp. cayenne pepper
3/4 tsp. ground cumin
Cooking Directions
Separate and toast Bagel Thins™ bagel. Place open-faced and top each half with 2 tablespoons of hummus and 1 tablespoon of low-fat sour cream. Spray nonstick frying pan with cooking oil and put on stove top under medium heat. Beat 3 egg whites together in mixing bowl and then pour into heated frying pan. Once eggs are cooked through, place on open-faced English muffin and top with salsa.|*Homemade black bean hummus:|Mince all ingredients together in food processor until smooth; refrigerate.
Recipe courtesy Thomas' English Muffins.
NUTRITION INFO:
Calories – 344
Total Fat – 11g
Cholesterol – 10mg
Sodium – 688mg
Total Carbohydrate – 43g
Dietary Fiber – 8g
Protein – 20g
Recipe Summary
Main Ingredients: bagel thins, egg whites, hummus, black beans
Course: Breakfast