Sara Moulton 's Korean-Style Grilled Flank Steak
A New Option for a Weeknight Dinner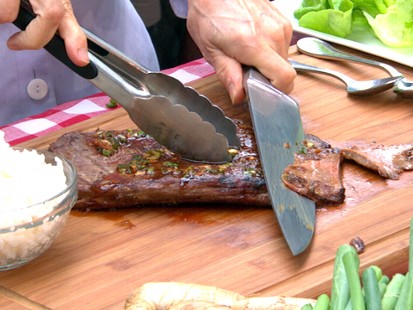 Chef also prepares lettuce wraps, chopped salad and blackberry-peach cobbler.
From the kitchen of Sara Moulton
|
Serving flank steak (a favorite for the grill) Korean style is always a hit—guests make lettuce-leaf bundles with rice and thin slices of meat and do the garnishing on their own.
Ingredients
¼ cup soy sauce
2 tablespoons rice vinegar (not seasoned)
1 tablespoon grated peeled fresh ginger
1 garlic clove, minced
2 teaspoons Sriracha (Southeast Asian chile sauce)
2 teaspoons sugar
1½ teaspoons Asian sesame oil
1–1¼ pounds flank steak
2 scallions, finely chopped
2 tablespoons sesame seeds, toasted
Cooking Directions
ACCOMPANIMENTS:
White rice; soft leaf lettuce
Stir together soy sauce, vinegar, ginger, garlic, Sriracha, sugar, and sesame oil.
Prepare a gas grill for direct-heat cooking over medium-high heat; see "Grilling Procedure," page 11.
Oil grill rack, then grill steak, covered, turning over once, 6 to 8 minutes for medium-rare.
Transfer steak to a cutting board and drizzle with 2 tablespoons sauce, then let stand, uncovered, for 5 minutes. Thinly slice steak across the grain. Serve with remaining sauce, scallions, and sesame seeds, accompanied by rice and lettuce leaves.
This recipe was styled by chef Karen Pickus for Good Morning America.
"Korean-Style Grilled Flank Steak," "Chopped Salad" and "Blackberry Peach Cobbler" from GOURMET WEEKDAY:All-Time Favorite Recipes by Condé Nast Publications. Copyright © 2012 by Condé Nast Publications. Reprinted by permission of Houghton Mifflin Harcourt Publishing Company. All rights reserved.
Other Recipes That You Might Like