Sara Moulton's Basic Barbecue Sauce
Quick, Easy Sauce Recipe Is Simple Not Too Hot, Not Too Sweet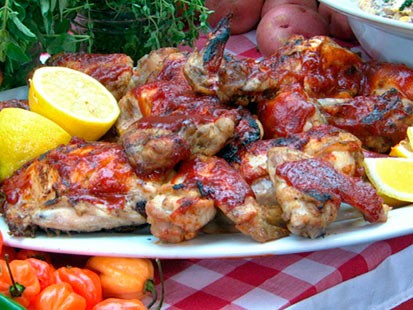 "GMA" food editor prepares the classic dish with grilled potato and corn salad.
From the kitchen of Sara Moulton
This basic sauce recipe is easy to double if you are feeding a crowd or just want to have some on hand in the fridge.
Ingredients
1 tablespoon vegetable oil
1 garlic clove
2 cups ketchup
1/4 cup cider vinegar
1/4 cup Worcestershire sauce
2 tablespoons packed dark brown sugar
1 tablespoon Creole Seasoning, homemade or store-bought
2 teaspoons dry mustard
Kosher salt and freshly ground black pepper
Cooking Directions
1. Heat the vegetable oil in a medium saucepan over medium heat until hot; reduce the heat to low and press the garlic (about 1 teaspoon) into the oil. Sauté it for about 1 minute or until it just begins to turn golden.
2. Add the ketchup, vinegar, Worcestershire sauce, brown sugar, Creole seasoning, and mustard. Bring the mixture to a boil over medium heat; reduce the heat to low and simmer the sauce, partially covered to reduce spattering, for 20 minutes, stirring occasionally.
3. Add salt and pepper to taste. Use as directed in a recipe or transfer to a nonreactive jar or bowl, cover, and refrigerate until you are ready to use it.
Makes 2 Cups
Hands-On Time: 7 Minutes
Total Preparation Time: 27 Minutes
Recipe courtesy Sara Moulton.
This recipe was styled by chef Karen Pickus for Good Morning America.
Recipe Summary
Main Ingredients: vegetable oil, ketchup, sugar
Course: Dinner
More Info: Kid Friendly