Sara Moulton's Beer Bread
Easy to Make, Easy to Eat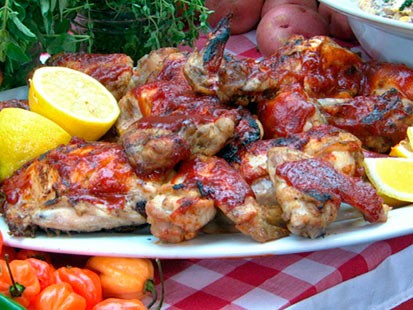 "GMA" food editor prepares the classic dish with grilled potato and corn salad.
From the kitchen of Sara Moulton
|
I had no idea abaut the widespread popularity of beer bread until Debbie Bickford, a longtime fan of my show, emailed her family's version to me, along with this introduction: "Hope you will enjoy this simple bread. It looks lumpy, but the lumps are yummy.' My granddaughter likes it for the butter."
The first time I made Debbie's recipe, it was so ridiculously simple, I thought it was a joke. Then I ate it and I understood it was a miracle. So little effort, so much flavor. In fact, it was so good, it inspired me to come up with a few variations of my own: beer bread made with cornmeal or whole wheat flour, and beer bread with onion.
A cook named Farmgirl Susan, wbo writes for a web site called "A Year in Bread," wrote well about the recipe's versatility: "Beer bread is delicious warm or at room temperature and goes well with just about anything. You can even use it to make sandwiches. It also freezes beautifully."
There are home cooks in the South who whip up a batch of biscuits for every meal. I'm thinking this beer bread could become my frequent side for weeknight meals.
Ingredients
8 tablespoons (1 stick) unsalted butter
3 cups unbleached all-purpose flour
3 tablespoons sugar
1 tablespoon baking powder
1 teaspoon table salt
One 12-ounce bottle good-quality beer
Cooking Directions
Place an oven rack in the upper third of the oven and preheat the oven to 350"F. Place the butter in a 13 x 9 x 2-inch baking dish or pan and set it in the oven while the oven is preheating.
Stir together the flour, sugar, baking powder, and salt in a medium bowl. Stir in the beer until it is just incorporated' (The dough will be sticky and heavy.) Pour 6 tablespoons melted butter out of the pan into a cup; tilt the pan to coat the bottom and sides with the remaining butter. Spoon the bread dough into the pan and spread evenly; drizzle the
6 tablespoons melted butter over the top. Bake for 20 to 25 minutes, or until the bumpy top is golden brown.
Remove the bread from the oven to a cooling rack; cut the bread into rectangles and serve warm.
Onion bread: Prepare the dough as above. Thinly slice a small onion and separate it into rings (aboutVz ary). Toss it with the 6 tablespoons melted butter and arrange it over the top of the dough.
Corn bread: Prepare the dough as above, substituting l cup cornmeal for 1 cup of the flour
Whole wheat bread: Prepare the dough as aboYe, substituting 1 cup whole wheat four for 1 cup of the all-purpose flour.
Recipes courtesy Sara Moulton's "Everyday Family Dinners"
This recipe was styled by chef Karen Pickus for Good Morning America.
Other Recipes That You Might Like