Sara Moulton's Blackberry Peach Cobbler
Great for Guests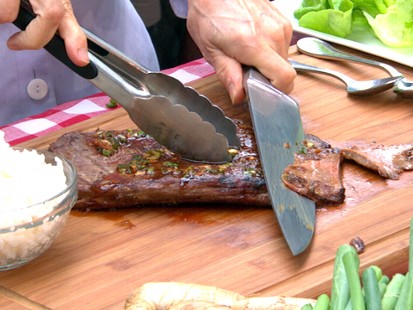 Chef also prepares lettuce wraps, chopped salad and blackberry-peach cobbler.
From the kitchen of Sara Moulton
We recommend baking this luscious cobbler ahead of time—that way you can reheat it while clearing the table. Otherwise you can just whisk together the dry ingredients beforehand, but you'll have to excuse yourself during dinner to assemble and bake the dessert.
Ingredients
2 tablespoons cornstarch
1½ cups plus 1 teaspoon sugar
1¼ pounds blackberries (5 cups)
2 pounds peaches (6 medium), peeled (see Cooks' Notes), pitted, and cut into ½-inch-thick wedges
3 cups all-purpose flour
1 tablespoon baking powder
1 teaspoon salt
16 tablespoons (2 sticks) cold unsalted butter, cut into ½-inch cubes
1 cup plus 3 tablespoons whole milk
Cooking Directions
Preheat oven to 425°F, with rack in middle. Butter a 13-by-9-by-2-inch glass or ceramic baking dish (3-quart capacity).
Whisk together cornstarch and 1½ cups sugar in a large bowl, then add blackberries and peaches and toss to combine well. Transfer to baking dish and bake until just bubbling, 10 to 15 minutes.
While fruit bakes, whisk together flour, baking powder, and salt in another large bowl, then blend in butter with your fingertips or a pastry blender until mixture resembles coarse meal. Add milk and stir just until a dough forms. (Dough will be sticky.)
Drop dough onto hot fruit mixture in 12 mounds (about 1/3 cup each), then sprinkle dough with remaining teaspoon sugar. Bake cobbler until top is golden, 25 to 35 minutes. Serve warm.
COOKS' NOTES: To peel the peaches, first cut an X in the end opposite the stem and immerse in a large pot of boiling water, 3 at a time, for 15 seconds. Transfer with a slotted spoon to an ice bath and then peel.
The cobbler can be baked 6 hours ahead and cooled completely, uncovered, then chilled, covered. Before serving, let stand at room temperature for 1 hour, then reheat in a preheated 350°F oven until warm, about 20 minutes.
KITCHEN TIP
EASY DOES IT
A cobbler is the perfect thing to make if you're entertaining guests for the weekend, because it can just sit on a counter, waiting for someone to come along and take some. (Leftovers, drizzled with heavy cream, are grand for breakfast.) The cobbler here—full of sweet, golden peaches and the purple tartness of blackberries—is particularly easy to throw together because you don't have to fuss with rolling out pastry or biscuit dough. Just plop the biscuits down on top of the piping-hot filling; that way the underside of the dough cooks through completely, and the topping will be tender and fluffy.
This recipe was styled by chef Karen Pickus for Good Morning America.
"Korean-Style Grilled Flank Steak," "Chopped Salad" and "Blackberry Peach Cobbler" from GOURMET WEEKDAY:All-Time Favorite Recipes by Condé Nast Publications. Copyright © 2012 by Condé Nast Publications. Reprinted by permission of Houghton Mifflin Harcourt Publishing Company. All rights reserved.
Recipe Summary
Main Ingredients: cornstarch, sugar, milk, blackberries
Course: Breakfast, Brunch, Dessert
More Info: Kid Friendly