Sara Moulton's Creole Seasoning Recipe
Add a Dose of Spice to Your Average Dinner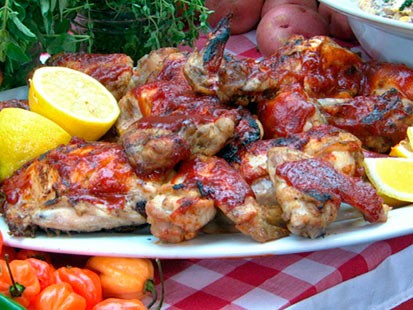 "GMA" food editor prepares the classic dish with grilled potato and corn salad.
From the kitchen of Sara Moulton
|
In general, I'm not a fan of garlic and onion in powdered form; I prefer them fresh. But I am a fan of the cooking of Paul Prudhomme and Emeril Lagasse. Both of these superstar chefs macle their name at New Odeans's Commander's Palace restaurant and both have based their repertoires on a special spice blend that includes onion powder and garlic powder.
What can I say? The proof is in the spice mix. When I developed the recipe for Red Beans and Rice Soup with Ham, I thought this spice mix might improve it a little. After adding it, I realized at once that the spice mix turned a good soup into a great soup. It is just as important in the Breaded Creole Chicken with Ranch-Dressed Coleslaw.
Ingredients
1 tablespoon plus 1 teaspoon hot paprika
1 tablespoon kosher salt
1 tablespoon garlic powder
1 1/2 teaspoons freshly ground black pepper
1 1/2 teaspoons onion powder
1 1/2 teaspoons cayenne pepper
1 1/2 teaspoons dried oregano
1 1/2 teaspoons dried thyme
Cooking Directions
Combine the paprika, salt, garlic powder, black pepper, onion powder, cayenne, oregano, and thyme in a small bowl. Transfer the paprika mixture to a tight-lidded jar or tin and use it as directed in a recipe. It will keep for up to 6 months.
This recipe was styled by chef Karen Pickus for Good Morning America.
Recipe courtesy "Sara Moulton's Everyday Dinners"
Other Recipes That You Might Like