Sassy Veggie Egg Rolls
Recipe Courtesy of Hungry Girl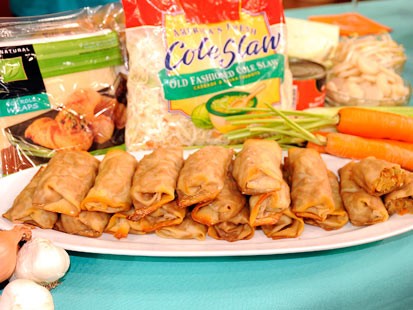 From the kitchen of Hungry Girl
|
Ingredients
2 and 1/2 cups dry cole slaw mix
1 cup chopped onion
1/2 cup chopped bean sprouts
1/2 cup chopped celery
1/2 cup canned pineapple packed in juice, drained and chopped
1/2 cup canned sliced water chestnuts, drained and chopped
1/4 cup reduced-sodium/lite soy sauce
2 tablespoons chopped garlic
Salt and black pepper, to taste
12 large square egg roll wrappers (often stocked near the tofu in the fridge section of the market)
Cooking Directions
Preheat oven to 350 degrees.
Place slaw mix in a microwave-safe bowl with 2 tablespoons water. Cover and microwave for 3 minutes. Once cool enough to handle, drain water, and transfer to a large bowl.
Add all other ingredients except for wrappers to the bowl and mix well. Season to taste with salt and pepper. Set aside.
Place two egg roll wrappers on a clean, dry surface. Evenly place 2 heaping spoonfuls of the veggie mixture (1/12th of the total mixture) onto each wrapper, in rows a little below the center of each square. Moisten all four edges of each wrapper by dabbing your fingers in water and going over the edges smoothly.
Fold the sides of each wrapper about ¾ of an inch toward the middle, to keep the mixture from falling out of the sides. Then, roll the bottom of each wrapper up around the mixture, and continue rolling until you reach the top. Seal the outside edge once more with a dab of water.
Repeat process with all other wrappers, making sure you have a clean, dry surface each time. Place all of the egg rolls on a large baking sheet sprayed with nonstick spray. Lightly spray the tops of the egg rolls with nonstick spray.
Bake in the oven for about 25 minutes, until golden brown.
Allow to cool slightly, and then cut each egg roll in half. Party time!
Makes 12 servings
Other Recipes That You Might Like