Taste of Home's Sauerkraut Chocolate Cake
Secret Baking Weapon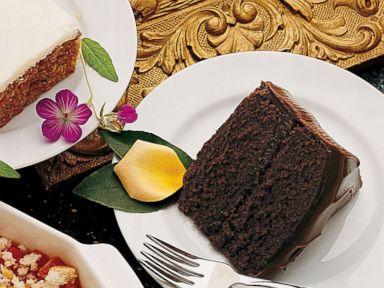 From the kitchen of Taste of Home
We've all had the experience of tasting a dessert and not quite being able to identify what makes it taste so delicious. Using unusual ingredients, like vegetables, can create extra-special unexpected results. Try adding sauerkraut for extra moisture and a texture similar to coconut, without any of the sourness. Get Taste of Home's recipe for Sauerkraut Chocolate Cake below.
Ingredients
For the cake:
1/2 cup butter, softened
1-1/2 cups sugar
3 eggs
1 teaspoon vanilla extract
2 cups all-purpose flour
1/2 cup baking cocoa
1 teaspoon baking powder
1 teaspoon baking soda
1/2 teaspoon salt
1 cup water
3/4 cup sauerkraut, drained, squeezed dry and chopped
For the silk chocolate frosting:
1-1/3 cups butter, softened
4 ounces unsweetened chocolate, melted
1-1/2 teaspoons vanilla extract
5-1/2 cups confectioners' sugar
1/4 cup milk
Cooking Directions
In a bowl, cream the butter and sugar. Add eggs, one at a time, beating well after each. Add vanilla. Combine flour, cocoa, baking powder, baking soda and salt; add to the creamed mixture alternately with water. Stir in sauerkraut. Pour into two greased and floured 8-in. round baking pans.
Bake at 350 degrees for 35 to 40 minutes or until a toothpick inserted near the center comes out clean. Cool in pans for 10 minutes before removing to wire racks to cool completely.
For frosting, beat butter, chocolate and vanilla in a bowl; add sugar and beat well. Add milk; beat until smooth and fluffy. Spread between layers and over top and sides of cake.
Recipe Summary
Main Ingredients: butter, sugar, eggs, sauerkraut, flour
Course: Dessert