Mario Batali's Sausage & Peppers
A Tailgating Favorite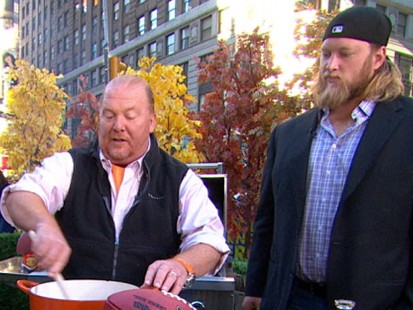 The chef and the Super Bowl champ put on a special event during the NYC Wine and Food Festival.
From the kitchen of Mario Batali
|
Tailgating can be so much more than just burgers and wings. Try Mario Batali's recipe for sausage & peppers at your next game-day celebration.
Ingredients
3 tablespoons olive oil
2 large red onions, cut into 1/2-inch chunks
3 large red bell peppers, cored, seeded, and cut into 1/2-inch squares
2 large yellow bell peppers, cored, seeded, and cut into 1/2-inch squares
1 large green bell pepper, cored, seeded, and cut into 1/2-inch squares
Kosher salt and freshly ground black pepper
1 fresh rosemary sprig
1 tablespoon balsamic vinegar
2 pounds sweet Italian sausages
8 thin slices provolone cheese
4 hero rolls
Cooking Directions
Preheat a gas grill or prepare a fire in a charcoal grill.
Heat the oil in a large heavy pot over medium heat. Add the onions, bell peppers, and salt and pepper to taste, then add the rosemary sprig and cook, stirring often, until the onions and peppers are very tender, 18 to 20 minutes. Add the balsamic vinegar and check the seasoning. Transfer to a large serving platter and set aside.
Using a sharp knife tip, prick each sausage 7 or 8 times. Place them on the grill, cover, and cook, turning them occasionally with tongs and moving them around as necessary when flame-ups occur, until cooked through, 12 to 15 minutes.
While sausage is still hot, top with two overlapped slices of provolone.
Place sausages into toasted buns and top with peppers. Serve immediately.
Recipe courtesy of Mario Batali.
This recipe was styled by chef Karen Pickus for Good Morning America.
Other Recipes That You Might Like