Haylie Duff's Sausage-Stuffed Mushrooms
Star Chef Cooks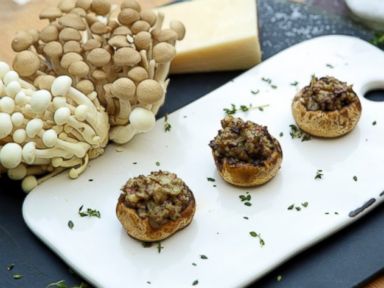 From the kitchen of Haylie Duff
Haylie Duff may be most known for her skills as an actress, but the silver screen star has also been making her name for herself in the food world. Since starting her food blog, "Real Girl's Kitchen," during some downtime on set about three years ago, she's scored a cookbook and a show on Cooking Channel. Tune in and try her recipe for Sausage-Stuffed Mushrooms below.
Ingredients
Button Mushrooms large enough for stuffing
1 Link Sausage
1 Deseeded Jalapeno
1 Cup Grated Pecorino
1 Cup Grated Parmesan
1 Egg Yolk
1 Tablespoon Chopped Thyme
1-2 Teaspoons Lemon Juice
Cooking Directions
Preheat the oven to 350 degrees. Wipe each mushroom with a wet dishtowel to remove any dirt. Pull out each stem and set aside.
Remove the casing from the sausage. Heat sausage in a skillet over medium heat, until it starts to break apart, then remove from pan.
Finely chop the mushroom stems and jalapeno. Combine sausage, mushroom stems, jalapeno, cheese, yolk, thyme and lemon juice in a mixing bowl. Place mushrooms on a baking sheet covered in aluminum foil. Stuff each mushroom with mixture.
Bake for 20 minutes.
Recipe Summary
Main Ingredients: buttom mushrooms, sausage, jalapeno, thyme
Course: Side Dish