Clinton Kelly's Savory Tomato Crumble
Try This Year-Round Tomato Dish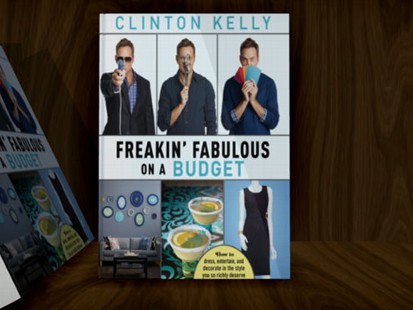 The co-host of ABC's "The Chew" and TLC's "What Not to Wear" discusses his new book.
From the kitchen of Clinton Kelly
Clinton Kelly, host of ABC's The Chew, knows a thing or two about entertaining. In his new book, "Freakin' Fabulous On a Budget," Kelly shares his no-fail tips for living the fab life with delicious, simple food.
Try his recipe for savory tomato crumble here.
Ingredients
3 pounds ripe but firm tomatoes
1 tablespoon all-purpose flour
2 garlic cloves, finely chopped
1/3 cup torn basil leaves, plus extra for garnish
2 tablespoons chopped fresh thyme
Salt and pepper to taste
1 cup bread crumbs
1/3 cup Parmesan or Romano cheese
1/4 cup olive oil
Cooking Directions
Preheat oven to 400°F.
Cut the tomatoes into 8 round slices about ½-inch thick, remove seeds, and cut again into half-moons. In a large bowl, mix the tomatoes with the flour, gar¬lic, basil, thyme, and salt and pepper. Pour tomato mixture into a casserole dish.
In a separate bowl, mix bread crumbs, cheese, and olive oil. Sprinkle topping over tomatoes.
Bake for 45 minutes or until golden brown. Cool for 10 minutes to allow tomatoes to set. Garnish with some freshly torn basil leaves.
Cheap Trick: To make your own bread crumbs, cube leftover bread, toast in the oven at 400°F until golden. and pulverize in a food processor. It will keep in the freezer for up to three months.
Recipe reprinted with permission from "Freakin' Fabulous On A Budget" by Clinton Kelly/Gallery Books.
Recipe Summary
Main Ingredients: tomatoes, garlic, basil, thyme, bread crumbs
Course: Appetizer/Starter, Side Dish