Emeril Lagasse's Scrambled Egg and Sautéed Veggie Breakfast Tacos
Recipe Makeover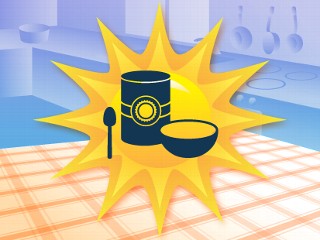 From the kitchen of Emeril Lagasse
Recipe fatigue is a common epidemic that infects every kitchen from time to time. Luckily, celebrity chef Emeril Lagasse has just the cure. He turned breakfast eggs into Scrambled Egg and Sautéed Veggie Breakfast Tacos.
Ingredients
6 corn tortillas
3 tablespoons butter, softened
1 cup chopped onion
3/4 cup sliced mushrooms
3/4 cup sliced bell peppers
2 handfuls of spinach leaves
1 teaspoon minced garlic
1/2 teaspoon salt
1/4 teaspoon freshly ground black pepper
6 eggs, whisked
Pinch of cayenne
6 slices Swiss or cheddar cheese or 3/4 cup shredded Swiss or cheddar
Your favorite hot sauce, optional, for serving
Cooking Directions
Preheat the oven to 325°F.
Wrap the corn tortillas in aluminum foil and place in the oven to warm while you prepare the eggs and veggies.*
Heat a 12-inch non-stick skillet over medium heat and add 1 tablespoon of the butter. Add the onion, mushrooms, and bell peppers to the pan and cook, stirring frequently, until softened, about 10 minutes. Stir in the spinach, garlic, 1/4 teaspoon of the salt and the remaining 1/4 teaspoon black pepper and stir just until the spinach has wilted; transfer to a heatproof bowl and cover to keep warm.
Add the remaining butter to the pan and, once melted, add the eggs, the remaining 1/4 teaspoon of salt and cayenne. Reduce the heat to low and scramble the eggs for 1 1/2 to two minutes. Remove from the heat.
Assemble the tacos. Divide the scrambled eggs among the warmed tortillas, then top with the sautéed mushrooms, peppers and spinach. Sprinkle the cheese over everything and then roll or fold up the tortillas. Serve warm, with your choice of hot sauce, if desired.
*Note: If you prefer, you can warm the tortillas in a hot skillet one at a time, lightly brushed with olive oil.
Recipe courtesy Chef Emeril Lagasse, copyright MSLO, Inc., all rights reserved. Styled by Karen Pickus for Good Morning America.
Recipe Summary
Main Ingredients: tortillas, eggs, mushrooms, bell peppers, cheese
Course: Breakfast