Seafood Sausage Stuffed Calamari
From Oceana to Your Dinner Table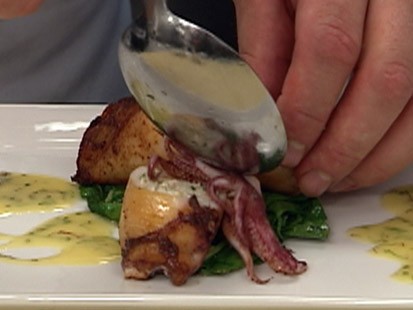 Oceana chef Ben Pollinger rolls calamari into a filling taste sensation.
From the kitchen of Ben Pollinger
Ingredients
Sausage mix
24 ounces fish trim
2 eggs
12 ounces fish trim, diced small
2 onions, minced
2 cloves garlic, minced
1 green chili, minced
1/2 bunch parsley chiffonade
1/4 Basil chiffonade
1/2 bunch chives, minced
1/4 cup pignoli, toasted
1/4 cup Gaeta olives, chopped small
2 pounds medium size calamari, cleaned. Tubes and tentacles separated
Swiss Chard
1/4 cup extra virgin olive oil
1 pound cleaned Swiss chard leaves
3 Tbs chives, minced
3 Tbs parsley, chiffonade
Lemon VIN
1 1/2 cups fresh lemon juice
1/4 cup Dijon mustard
1/4 cup honey
1 1/2 cups EVOO
1 1/2 cups grapeseed oil
1/3 cup Sorrento lemon oil
Salt
2 tbs chives, minced
2 tbs basil, chiffonade
2 tbs mint, chiffonade
Cooking Directions
Puree the 24 ounces of fish trim in the food processor until smooth. Work in eggs and process until smooth mixture is formed. Sweat onion, garlic and chili in EVOO over low heat until well cooked with no color. Cool. Mix fish mousse with diced fish, onion mixture, herbs, pignolis and olives. Season. Stuff medium size cleaned calamari tubes with the sausage mixture. Secure opening of calamari with toothpick. Saute stuffed calamari tubes in canola oil over medium heat until lightly browned. Finish cooking in 350 degree oven until cooked through, about 6 minutes. Saute calamari tentacles in canola oil. Reserve. Saute Swiss chard in EVOO over high heat. Season to taste with salt and pepper. Cook until wilted. Finish with herbs. Combine lemon juice, mustard and honey in blender. Blend on high speed. Slowly emulsify in EVOO, grapeseed oil and Sorrento lemon oil. Season with salt. Fold in herbs. Place Swiss chard in the center of the plate. Place calamari on Swiss chard. Sauce around with lemon vinaigrette.
Recipe Summary
Main Ingredients: fish trim, olives, calamari, swiss chard
Course: Appetizer/Starter, Brunch, Dinner, Main Course