Tasting Table's Seared Rib-Eye with Salsa Verde
Food Is Love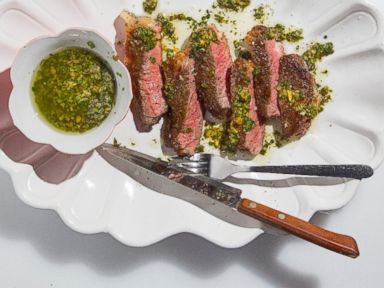 From the kitchen of Tasting Table
Valentine's Day is your opportunity to do it up—whether flying solo, with friends or a loved one—in the kitchen. Go big this year with deceivingly easy and romantic recipes like this Seared Rib-Eye with Salsa Verde from the Tasting Table test kitchen.
Ingredients
1 (1-inch thick) boneless rib-eye steak (about 12 ounces), trimmed
1 garlic clove
3 anchovy fillets, rinsed and patted dry
2 tablespoons capers, drained, rinsed, patted dry and roughly chopped
Zest of 1/2 lemon
1 tablespoon lemon juice, plus more as needed
1/4 cup finely chopped flat-leaf parsley
2 tablespoons finely chopped basil or mint
1/2 cup extra-virgin olive oil
Kosher salt
Freshly ground black pepper
Vegetable oil, for cooking
2 tablespoons unsalted butter
Cooking Directions
Let rib eye stand at room temperature for 20 minutes.
Make the salsa verde: using a mortar and pestle, crush the garlic and anchovies into a smooth paste. (Alternatively, mince them with a knife, then use the side of the blade to smash them into a paste.) Place in a bowl with the capers, lemon zest, lemon juice, parsley, basil or mint and olive oil. Season to taste with salt, pepper and more lemon juice.
Season the rib eye all over with salt and pepper. Set a large cast iron skillet over high heat and let it get really hot, about 3 to 4 minutes. Add about 1 tablespoon of oil to the pan. When the oil is hot, add the steak and cook, without moving, until browned, about 2 minutes. Flip and cook the second side until browned and a thermometer inserted in the thickest part of the steak registers 120 to 125° degrees, about 2 minutes more. Add the butter and baste for 30 seconds. Remove the meat from the pan and let rest for 10 minutes, then slice the steak on the bias. Serve with salsa verde.
Recipe courtesy Tasting Table test kitchen.
Recipe Summary
Main Ingredients: rib-eye steak, anchovies, capers, lemon, garlic
Course: Dinner