Emeril Lagasse's Seared Shrimp Salad
Grilling Guru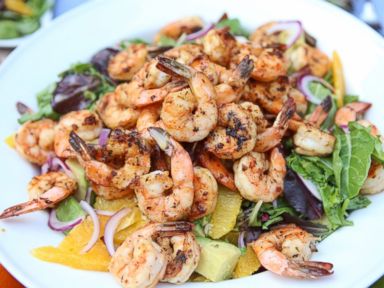 From the kitchen of Emeril Lagasse
Emeril Lagasse stopped by "Good Morning America" to share his top grilling tips. Click here to see what he recommends, and check out his recipe below for Seared Shrimp Salad.
Ingredients
1/4 cup freshly squeezed orange juice
2 tablespoons freshly squeezed lime juice
1 teaspoon honey
3/4 teaspoon crushed red pepper
1/2 teaspoon soy sauce
1/2 teaspoon plus a pinch of salt
1/4 cup plus 2 tablespoons olive oil
1 pound large shrimp, peeled and deveined
One 5-ounce bag prewashed mixed greens (about 8 cups)
2 oranges, peeled and segmented
1/2 cup thinly sliced red onion
1 ripe avocado, halved, seeded, and thinly sliced
Cooking Directions
Combine the orange juice, lime juice, honey, 1/2 teaspoon of the crushed red pepper, the soy sauce, and 1 /4 teaspoon of the salt in a small nonreactive bowl. Whisk to blend. In a slow, steady stream, whisk in the 1/4 cup olive oil. Set the vinaigrette aside.
Heat 1 tablespoon of the remaining olive oil in a 12-inch saute pan over medium-high heat. In a bowl, toss the shrimp with the remaining 1 tablespoon olive oil, and season with 1/4 teaspoon salt and 1/4 teaspoon crushed red pepper. Add the shrimp to the pan, in two batches if necessary, and cook until they have curled and are just cooked through, 2 minutes on each side. Transfer the shrimp to a paper towel-lined plate and reserve.
In a large mixing bowl, combine the greens, oranges, red onion, and pinch of salt. Whisk the vinaigrette, and add 3 tablespoons to the salad. Toss lightly to combine, and then divide the salad among four serving plates. Take 3 to 4 slices of the avocado and fan them out on top of each salad. Divide the shrimp evenly among the salads. Drizzle a little more vinaigrette over the shrimp and avocado, and serve immediately.
Recipe courtesy Emeril Lagasse, from Emeril 20-40-60: Fresh Food Fast, Harper Collins Publisher, New York, 2009, copyright MSLO, Inc., all rights reserved.
Recipe Summary
Main Ingredients: shrimp, mixed greens, orange, avocado
Course: Salad