Seared Sirloin and Braised Brisket
From 'Chef's Table'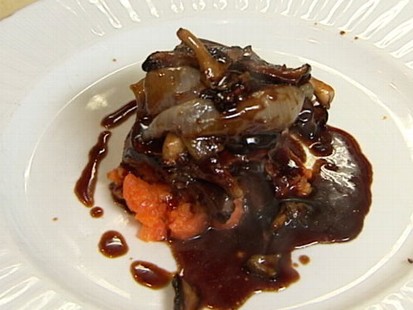 Telepan executive chef Bill Telepan creates a Passover meal with a mash twist.
From the kitchen of Bill Telepan
Ingredients
For the brisket:
1 3-lb piece beef brisket
3 tablespoons extra-virgin olive oil
2 medium carrots, diced
1 small celery root, medium diced (about 1 cup)
1 onions, small dice
4 garlic cloves, sliced
4 cups veal stock or chicken stock
Salt & black pepper to taste
For the caramelized onion:
1 medium onion, cut into 4 thick slices
2 tablespoon vegetable oil
For the mashed carrots:
6 tablespoon vegetable oil
2 pound carrots, peeled and medium diced
For the mushrooms:
2 tablespoons butter or vegetable oil
8 ounces sliced mushrooms (crimini, morels)
For the sirloin:
2 pounds New York strip, cut into 1 chuck
4 tablespoons oil
Cooking Directions
Preheat oven to 350 degrees F. Pat brisket dry. Heat 2 tablespoon oil in a 6-quart heavy pot over moderately high heat, add oil and heat until hot but not smoking, then add brisket and brown on both sides, about 12 minutes total.
Transfer brisket to a platter. Add 1 tablespoon oil and chopped vegetables to pot, then saute over moderately high heat, stirring, until softened and golden, about 5 minutes. Add stock and bring to a boil. Return brisket with any juices on platter to pot and cover, then Transfer to oven. Braise brisket, turning over once per hour, until tender, about 2.5 -3 hours. Transfer to a cutting board to slice later. Strain juices and reduce sauce by half. Slice brisket and gently warm in sauce before serving. Reserve sauce.
In a 3 quart pot with cover, oil on medium heat. Add carrots, 2 tablespoons of water and sprinkle with salt, cover pan and cook until carrots are tender, about 15 minutes. Remove from heat, mash with potato masher and adjust seasoning.
When oil gets hot, add onions and brown lightly, shaking pan to brown evenly, about 10 minutes, the turn over carefully and cook additional 5 minutes -- remove oil carefully, season with salt and cover with foil, place in 350 degrees F oven (can be done in same oven as brisket) -- cook tender, about 20-30 minutes.
In a large saute pan, melt butter or heat oil. add mushrooms and saute golden brown for about 7-8 minutes, stirring occasionally. Season and reserve.
Heat a large saute pan on high heat and add oil and bring to just about smoking.
Sear all sides until well brown, about 20 minutes.
Place in 350-degree oven, for additional time depending on doneness-5 minutes medium rare, 8 minutes medium. Do not place in oven if you want rare.
Let rest at least 15 minutes before slicing
Add mushrooms and onions to brisket sauce. Place carrots onto plates, spoon brisket on top of carrots and spoon sauce over brisket, should get as many onions and mushrooms on plate.
Recipe Summary
Main Ingredients: mushrooms, brisket, new york strip, carrots
Course: Dinner, Brunch, Main Course