Mario Batali's Otto's Short Rib (RED) Pizza
Good Cause Grub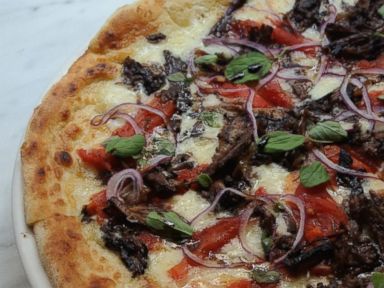 From the kitchen of Mario Batali's Otto
|
This June marks the month during which AIDS was discovered 33 years ago, so (RED) is launching a two-week food campaign to raise money to fight the disease. From June 1 to June 10, the organization, founded by Bono and Bobby Shriver in 2006, is partnering with chefs across the country to raise money for the organization. Every time people order a (RED) item on the menu of a participating restaurant, a small donation from that restaurant will be made to the Global Fund to Fight AIDS.
Below is chef Mario Batali's Otto's participating recipe for Short Rib (RED) Pizza.
Ingredients
For the braised boneless short ribs:
3 lb boneless short ribs
3 tbs extra virgin olive oil
1/2 cup diced onion
1/2 cup diced carrot
1/2 cup diced celery
2 tbs tomato paste
3 cups of red wine
2 cups balsamic vinegar
3 cloves of sliced garlic
8 sprigs of thyme
1 bay leaf
For the pizza:
One pizza dough
For the toppings:
1/2 cup shredded fontina or bel pease
3 oz shredded braised short ribs
1 oz red onion sliced paper-thin
3 oven-dried tomatoes halved
1 tsp vin cotto
Cooking Directions
For the braised short ribs: Heat a Dutch oven or a rondo and get oil smoking hot. Season the short ribs with salt and pepper and sear them until brown on all sides, 3 to 4 min per side. Remove the ribs and set aside in a bowl.
Sauté onions, carrots and celery in the Dutch oven until soft. Stir in the tomato paste and cook until browned. Add the garlic and cook until aromatic, around 1 min. Deglaze with half the red wine and add the ribs back to the Dutch oven. Add the remainder of the red wine and balsamic with the thyme and bay leaves and bring to a simmer. (If the ribs are not fully immersed just add a little water.)
Cover and put in a preheated 300F oven and cook for 2 ½ to 3 hours or until the meat can be easily shredded.
To make the pizza: Scatter the cheese evenly over the pizza crust, spread the toppings of the shredded short rib, roasted tomatoes, and red onion evenly cook under broiler for 7 to 8 min. Slice and finish with a drizzle of vin cotto.
Recipe Courtesy of OTTO Executive Chef Dan Drohan.
Other Recipes That You Might Like