Tasting Table's Shredded Chicken Tacos with Salsa Verde
Fiesta Food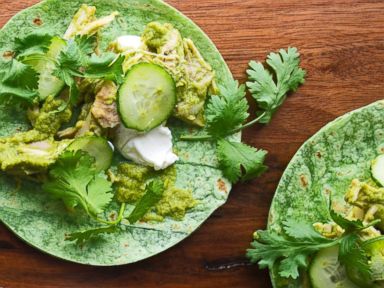 From the kitchen of Tasting Table
|
Go beyond salsa and guac this Cinco de Mayo with TastingTable.com's recipe for Shredded Chicken Tacos with Salsa Verde below.
Ingredients
For the Salsa Verde:
2 tablespoons extra virgin olive oil
6 small tomatillos, husked, rinsed and quartered
1/3 cup roughly chopped white onion
2 cloves garlic
1 jalapeño, stemmed and halved
1/4 cup cilantro leaves
1 tablespoon fresh lime juice
Salt and freshly ground pepper, to taste
For the Chicken:
2 tablespoons extra virgin olive oil
1/2 yellow onion, roughly chopped
1 medium carrot, roughly chopped
5 cloves garlic, smashed
4 cups chicken broth, preferably homemade
1 teaspoon whole coriander seeds
1 teaspoon whole fennel seeds
1 teaspoon whole cumin seeds
3 jalapenos (2 stemmed and halved; 1 thinly sliced)
Juice of 3 limes
2 sprigs thyme
1 fresh bay leaf
4 bone-in chicken thighs, skin removed
Salt and freshly ground black pepper, to taste
To serve:
8 6-inch-round spinach tortillas, warmed
1/2 cup sour cream
1 cucumber, thinly sliced
Cilantro, for garnish
Cooking Directions
Make the salsa verde: Preheat oven to 450 degrees F. Heat the olive oil in a large cast iron skillet over medium-high heat. Add the tomatillo, onion, garlic and jalapeno, and roast until just cooked through, about 10 minutes. Let cool. Transfer the tomatillo mixture to a blender along with the cilantro and lime juice and puree until smooth. Season with salt and set aside.
Make the chicken: Heat the olive oil in a medium saucepan over medium heat. Add the onion, carrot and garlic and cook, stirring occasionally, until tender, about 8 minutes. Add the broth, coriander, fennel, cumin, halved jalapenos, lime juice, thyme and bay leaf and bring to a simmer. Cover the pan, reduce heat to low, and simmer for 20 minutes. Season the chicken with salt and pepper, add to the pan, and continue to simmer, covered, until tender, about 35 minutes more. Using a slotted spoon, transfer the chicken to a bowl. Let the chicken rest until it's cool enough to handle. Using your hands, shred the chicken and discard the bones. Add enough of the cooking liquid to moisten the chicken.
To serve: Arrange the tortillas on a platter and top each with some of the chicken, salsa verde, sour cream, sliced jalapeno, cucumber and cilantro.
Recipe courtesy TastingTable.com.
Other Recipes That You Might Like