Kentucky Derby's Shrimp & Grits with Tasso Gravy
Official Derby Recipe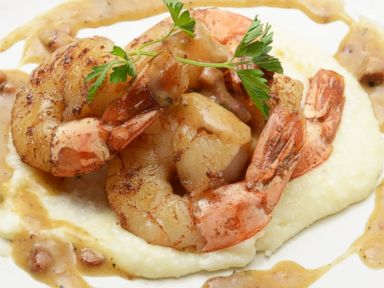 From the kitchen of Kentucky Derby
|
Everyone's going to be eating hot browns and drinking mint juleps for the Kentucky Derby -- except for the people attending, that is. We got the Derby's official culinary team to share the recipes they'll be serving at this year's race, like the Shrimp & Grits with Tasso Gravy below.
Ingredients
Shrimp
1 pound shrimp, peeled and deveined
1 tablespoon olive oil
1 tablespoon butter
Grits
1 cup white Wiesenberger grits
2 cups water
2 cups milk
2 cups white cheddar cheese, grated
1 tablespoon salt, or more to taste
1 teaspoon white pepper
Tasso Gravy
2 tablespoons butter
1/2 pound Tasso, diced
3 tablespoons all-purpose flour
1 cup strong coffee
2 cups chicken broth
2 dashes Tabasco sauce
Salt and pepper to taste
Cooking Directions
Shrimp: Heat olive oil and butter in a skillet over medium heat. Sauté onions until tender, then toss in shrimp. Season with salt and pepper, and cook 4 to 5 minutes, or until shrimp turn pink.
Grits: Combine milk and water in a 5-quart heavy bottomed sauce pan. Add the salt to the liquids and bring to a boil. Add the grits to the pot, whisking until well incorporated. Keep stirring until the water comes back to a slight boil. Reduce heat to very low. Cover and let grits cook very slowly and gently for about 30 minutes or until they are tender to the tongue and the liquid is absorbed. Add white pepper, cayenne and cheese.
Tasso Gravy: Melt butter in a skillet; add Tasso, and sauté until browned. Whisk in flour, and cook, whisking constantly, until lightly browned. Whisk in coffee and broth; simmer, whisking until smooth, 15 minutes. Season with salt and pepper.
To serve: Place grits in a large platter, place shrimp on top of grits and then top with Tasso gravy.
Other Recipes That You Might Like