The Pollan Family's Signature Salad
Family Food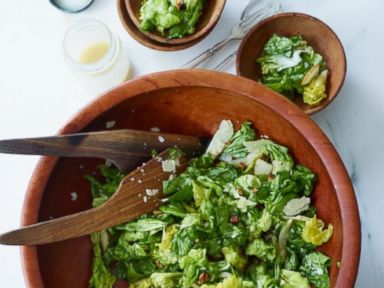 From the kitchen of The Pollan Family
The Pollan family has a lot of food experience -- mom Corky worked in food at both "Gourmet" and "New York" magazines -- and her three daughters carried that tradition into their adult lives, making it a point to cook and share meals with their own families. Try one of their family recipes from their new cookbook "The Pollan Family Table" for their Signature Salad below.
Ingredients
For the dressing:
1/3 cup white balsamic vinegar
1 tablespoon raspberry vinegar, champagne vinegar, or sherry vinegar
1 1/2 teaspoons Dijon mustard
1/3 cup grapeseed oil
2 tablespoons extra virgin olive oil
Sea salt
Freshly ground black pepper
For the salad:
5 to 7 ounces mesclun or mixed baby greens
1/2 cup chopped Caramelized Walnuts (store-bought)
1/2 Bosc pear (cut lengthwise), cored, and thinly sliced
1/3 cup shaved Parmesan cheese
Cooking Directions
For the dressing: In a glass jar with a lid or in a small mixing bowl, combine the vinegars, mustard, grapeseed oil, olive oil, 1/8 teaspoon of salt, and pepper to taste. Shake the jar vigorously or whisk in the bowl to emulsify.
For the salad: Place the mesclun in a large salad bowl. Pour on half the dressing and toss the greens to coat. Add the walnuts, pear, and more dressing to taste (taking care not to overdress) and toss again. Top with the Parmesan cheese shavings and serve.
Excerpted from THE POLLAN FAMILY TABLE by Corky, Lori, Dana, and Tracy Pollan. Copyright 2014 by Old Harvest Way, LLC. Excerpted with permission by Scribner, a Division of Simon & Schuster, Inc.
Recipe Summary
Main Ingredients: dijon mustard, white balsamic vinegar, raspberry vinegar, bosc pear, mesclun, walnuts
Course: Salad