The Silver Spoon's Fish Carpaccio
A Christmas Eve Appetizer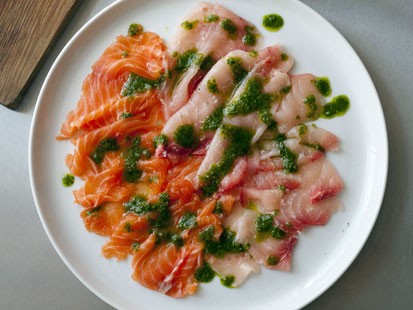 From the kitchen of The Silver Spoon
Include this delicious fish carpaccio in your Italian Christmas Eve feast. Freezing the fish beforehand makes slicing easier.
For more information on the Silver Spoon Cookbook, click here.
Ingredients
9-ounce very fresh swordfish fillet
9-ounce very fresh salmon fillet
scant ½ cup olive oil
1 garlic clove, finely chopped
1 tablespoon brandy
½ bunch of fresh flat-leaf parsley, coarsely chopped
1 teaspoon fresh thyme leaves
salt and pepper
Cooking Directions
Place the fish in the freezer or refrigerator for 1-2 hours to firm up. Using a very sharp knife, cut the swordfish and salmon into thin slices. Arrange on a serving dish and keep in the refrigerator until ready to serve. Put the olive oil, garlic, brandy, parsley, and thyme in a food processor and season with salt and pepper. Process to mix well. Just before serving, sprinkle the carpaccio with the dressing.
From The Silver Spoon
Recipe Summary
Main Ingredients: swordfish, salmon, thyme, salt, pepper
Course: Appetizer/Starter