The Silver Spoon's Vermicelli with Clams
A Christmas Eve Dinner Recipe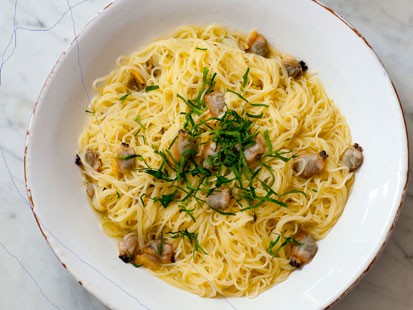 From the kitchen of The Silver Spoon
|
Add this simple dish to your Italian Christmas Eve feast. The liquid from the clams creates the most delicious sauce.
For more information on the Silver Spoon Cookbook, click here.
Ingredients
2 ¼ pounds clams, scrubbed
2/3 cup olive oil
2 garlic cloves
12 ounces vermicelli
1 tablespoon fresh flat-leaf parsley
salt and pepper
Cooking Directions
Discard any clams with broken shells or that do not shut immediately when sharply tapped. Heat the oil in a large pan, add the garlic and clams, and cook for about 5 minutes, until the shells open. Remove the pan from the heat and lift out the clams with a slotted spoon. Discard any that remain closed.
Remove the clams from their shells. Strain the cooking liquid into a skillet and add the clams. Meanwhile, cook the vermicelli in a large pot of salted, boiling water until al dente, then drain and pour into the skillet. Cook for 2 minutes, tossing frequently, then season with salt and pepper to taste and sprinkle with parsley. Transfer to a warm serving dish.
From The Silver Spoon
Other Recipes That You Might Like