Simple Sugar Cookies
Try These Delicious and Simple Sweet at Your Holiday Party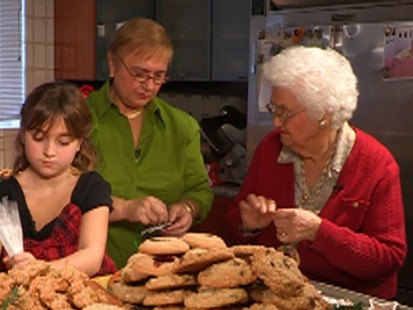 TV chef Lidia Bastianich teaches John Berman to bake perfect holiday desserts.
From the kitchen of Lidia Bastianich
Are you looking for a simple and tasty sugar cookie recipe? This family recipe from Lidia is sure to do the trick.
Ingredients
3 cups all-purpose flour
1 teaspoon baking powder
Pinch of salt
1 cup unsalted butter at room temperature
1 cup sugar
1 large egg
1 teaspoon vanilla extract
Cooking Directions
Sift four, baking powder, and salt together. In an electric mixer fitter with the paddle attachment, beat together butter and sugar until light and fluffy. Add egg and vanilla and mix well. Add flour mixture and mix until just combined. It might be a bit crumbly, but it will come together when chilled. Divide the dough into 4 equal parts, wrap with plastic wrap and refrigerate about 1 hour or more until firm.
Preheat the oven to 350F. Line 2 baking sheets with parchment and arrange racks in the top and bottom third of the oven. Roll out the dough between 2 sheets of parchment to about 1/8 inch thick. Cut out circles with a 2-inch round cookie cutter and place then on baking sheets. Use a 1-inch round cutter to cut out the centers and make "O" shapes that can be hung on the tree. Decorate with colored sanding sugar. Bake for 8 to 9 minutes or until the edges are golden. removed the cookies from the oven and let them cool on baking sheets for 5 minutes, and then transfer them to a wire rack.
Recipe Summary
Main Ingredients: all-purpose flour, baking powder, salt, butter, sugar, eggs, vanilla extract
Course: Party Platter, Dessert, Snack