'Simply Divine': Lisa Vanderpump's Shepherd's Pie
Filling and satisfying!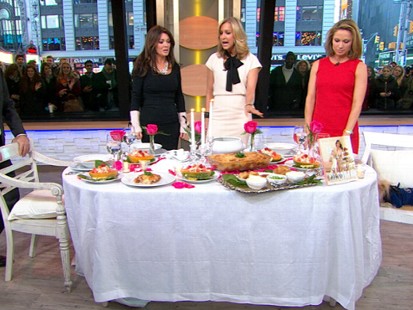 Lisa Vanderpump shares recipes for mushroom soup, shepherd's pie, from her cookbook "Simply Divine."
From the kitchen of Lisa Vanderpump
|
From Lisa Vanderpump's "Simply Divine" is this recipe for tasty Shepherd's Pie. This dish may be prepared the day before and warmed up just before dinner so that there is minimal stress for the host or hostess!
Ingredients
1 Tablespoon olive oil
1 large onion, chopped
2 medium carrots cut into ½ inch dice
2 garlic cloves, finley chopped
2 pounds ground sirloin (less than 10 percent fat)
One 28-oune can diced tomatoes in juice
½ cup hearty red wine
½ cup packaged organic chicken stock
2 tablespoons tomato ketchup
Salt and freshly ground black pepper
One 11-ounce can vacuum-packed corn, drained and rinsed
Mashed Potatoes (see separate recipe listed below)
¼ cup freshly grated Parmesan cheese
Fresh parsley, for garnishing
Mashed Potatoes
4 pounds baking potatoes, peeled and cut into chunks
4 Tablespoons (1/2 stick) unsalted butter
2/3 cup whole milk
Salt and freshly ground black pepper
Cooking Directions
1) To make the filling , heat the oil in a Dutch oven or flameproof casserole over medium heat. Add the onion, carrots and garlic and cook , stirring occasionally until the onion softens , about 3 minutes. Ad the ground sirloin and increase the heat to high. Cook, stirring occasionally and breaking up the meat with the side of a spoon, until it loses its raw look , about 10 minutes,. Stir in the tomatoes with their juices, wine and chicken stock and bring to a boil. Reduce the heat to medium and cook at a brisk simmer, stirring often, until the juices are thickened, about 30 minutes. The mixture should be moist, but not runny. Stir in the ketchup. Season with salt and pepper.
2) Prepare mashed potatoes (see below). White the potatoes are cooking, position a rack in the center of the oven and preheat to 375 degrees. Lightly oil a 9x13 baking dish.
3) Spread half of the filling in the baking dish and sprinkle with half of the corn. Top with half of the potatoes. Repeat with the remaining filling, corn, and potatoes. Sprinkle with the Parmesan. Place the baking dish on a large baking sheet.
4) Bake until the topping is golden brown, about 30 minutes. Let stand 10 minutes. If you wish, sprinkle with fresh parsley. Serve hot.
Mashed Potatoes
1) Put the potatoes in a large pot, and add enough salted water to cover them by 1 inch. Cover the pot and bring to a boil over high heat. Reduce the heat to medium low and simmer until the potatoes are tender, about 25 minutes (Do not undercook the potatoes, or you'll get lumps and we want nice creamy mashed potatoes for our topping)
2) Drain the potatoes well. Return the potatoes to the cooking pot and cover with a clean kitchen towel. Let stand for 5 minutes (The Towel will absorb the steam from the potatoes and make them drier for a fluffy mash)
3) Using an electric mixer on high speed, whip the potatoes with the milk and butter until smooth. Season with salt and pepper.
Reprinted with permission from "Simply Divine" by Lisa Vanderpump.
This recipe was styled by chef Karen Pickus for Good Morning America.
Other Recipes That You Might Like