'Simply Divine': Lisa Vanderpump's Wild Mushroom Soup
Quick, creamy and delicious!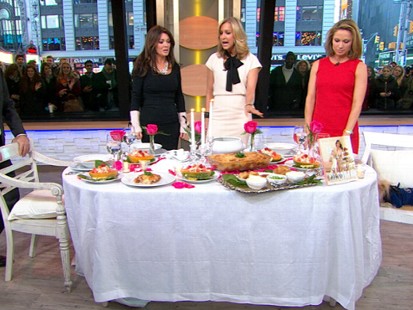 Lisa Vanderpump shares recipes for mushroom soup, shepherd's pie, from her cookbook "Simply Divine."
From the kitchen of Lisa Vanderpump
From Lisa Vanderpump's "Simply Divine" is this recipe for tasty wild mushroom soup. This dish may be prepared the day before and warmed up just before dinner so that there is minimal stress for the host or hostess!
Ingredients
2 ounces dried porcini, chanterelle, morel or black trumpet mushrooms, in any combination
6 ounces fresh mushrooms such as cremini, chanterelle oyster, morel, or stemmed shiitake
1 tablespoon extra-virgin olive or truffle-flavored olive oil
1 medium onion, chopped
1 garlic clove, finely chopped
2 tablespoons all-purpose flour
1 cup dry white wine
5 cups packaged organic chicken stock
Salt and freshly ground black pepper
2 tablespoons heavy cream
Cooking Directions
1) Place the dried mushrooms in a small bowl with enough boiling water to just cover the mushrooms. Let stand until the mushrooms soften, about 30 minutes. Strain soaking liquid and save 1 cup. Add the fresh mushrooms to the now-plumped dried mushrooms and chop coarsely.
2) Heat the oil in a soup pot over medium heat. Add the onion and garlic and sauté until the onion softens, about 3 minutes. Add the mushrooms and cook, stirring occasionally, until the juices evaporate, about 8 minutes.
3) Sprinkle with the flour and stir well. Stir in the cup of mushroom soaking liquid, wine, chicken stock, salt and pepper. Bring to a boil over high heat. Reduce the heat to medium-low. Simmer for 10 to 45 minutes, depending upon how much time you have; he longer you simmer, the more robust the flavor will be, but it's still a delicious 10-minute soup! Stir in the heavy cream and heat without boiling.
4) Using an immersion blender, puree the soup in the pot until it is a porridge-like texture. Serve hot. (The soup can be made cooled, covered and refrigerated, for up to 1 day. Reheat before serving, adding more stock if the soup is too thick).
Reprinted with permission from "Simply Divine" by Lisa Vanderpump.
This recipe was styled by chef Karen Pickus for Good Morning America.
Recipe Summary
Main Ingredients: dried porcini, chanterelle, morel or black trumpet mushrooms, cream
Course: Dinner, Soup