Skillet Apple Charlotte
From 'Chef's Table'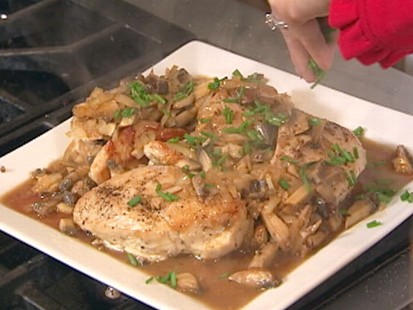 Famed chef Jacques Pepin creates perfectly stuffed chicken.
From the kitchen of Jacques Pepin
|
Ingredients
For the Skillet Apple Charlotte:
3 Granny Smith apples (about 1 1/2 pounds total)
3 tablespoons unsalted butter
2 tablespoons maple syrup
1 tablespoon honey
4 slices white bread
1 teaspoon sugar
3 tablespoons apricot preserves
About 1/2 cup sour cream or Greek yogurt (optional)
Cooking Directions
Preheat the oven to 400 degrees. Peel, core, and cut each apple into 6 wedges. Place the wedges in a small (7-to-8-inch) nonstick skillet, and add 2 tablespoons of the butter, the maple syrup, and the honey.
Bring to a boil over high heat. Cover, reduce the heat to low, and cook for about 5 minutes, or until the apples are just tender. Uncover, and cook over high heat for 4 to 5 minutes, or until the liquid is completely gone, and then continue cooking for another 2 minutes or so to glaze and caramelize the apples.
Trim the crusts from the bread slices, and arrange them, touching, into a square on a cutting board. Trim the corners to create a rough disk that will fit into the skillet and cover the apples. Butter the bread on one side with the remaining tablespoon of butter, and arrange the slices buttered side up on top of the apples. Sprinkle on the sugar, and place the pan in the oven. Bake for about 15 minutes, or until the bread is nicely browned on top.
At serving time, if necessary, reheat the dessert on top of the stove to help loosen the apples, and unmold the charlotte onto a serving platter. If the apricot preserves are firm, heat them for 30 seconds in a microwave oven to soften.
Pour and spread them on top of the apples. Serve the dessert in wedges as is or with a tablespoon of sour cream or Greek yogurt, if you like.
Other Recipes That You Might Like