Jessica Seinfeld's Skillet-Roasted Potatoes & Chicken
An Easy One-Pot Meal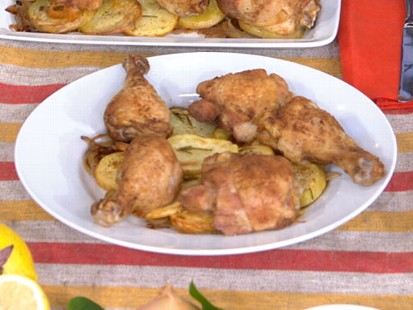 In her new book, Jessica Seinfeld tackles various issues people have with cooking.
From the kitchen of Jessica Seinfeld
Jessica Seinfeld, wife of funnyman Jerry and best-selling author of two other cookbooks, has put together no-fail recipes for even the most nervous kitchen nellies in her new guide, "The Can't Cook Book."
Try her simple recipe for skillet-roasted potatoes and chicken below.
Ingredients
1 yellow onion
½ cup water
5 medium Yukon Gold potatoes (about 1¼ lbs.)
1 tablespoon extra virgin olive oil
2 tablespoon fresh rosemary leaves (about 2 sprigs)
1½ teaspoon kosher salt (1 tsp. + ½ tsp.)
¾ teaspoon freshly ground black pepper (¼ tsp. + ½ tsp.)
4 small bone-in, skin-on chicken thighs (about 1¼ lbs. total)
4 chicken drumsticks (about 1 lb. total)
1 tablespoon ground coriander
Cooking Directions
Heat the oven (with the oven rack in the low position) to 425°F. Dust off your large ovenproof skillet.
Thinly slice the onion and scatter over the bottom of the skillet; add the water. Wash the potatoes (no need to peel) and slice them into about ¼-inch-thick rounds. Lay them over the onions, overlapping as necessary. Drizzle with the oil. Wash and dry the rosemary sprigs, then pull the leaves from their sprigs and sprinkle over the potatoes, along with 1 tsp. of the salt and ¼ tsp. of the pepper (about 12 turns on a pepper mill).
Wash the chicken and pat dry with paper towels. In a small bowl, combine the coriander and the remaining ½ tsp. salt and ½ tsp. pepper (about 24 turns on a pepper mill). Using your fingers, rub the spices into both sides of the chicken. Lay the chicken, skin side up, over the potatoes. Roast until the chicken is cooked through (you can cut into a piece to make sure it's no longer pink) and the potatoes are tender and can be easily pierced with the tip of a paring knife, about 1 hour.
Copyright © 2013 by Jessica Seinfeld from THE CAN'T COOK BOOK published by Atria Books, a division of Simon & Schuster, Inc.
This recipe was styled by chef Karen Pickus for Good Morning America.
Recipe Summary
Main Ingredients: onion, potatoes, chicken, coriander, rosemary, olive oil
Course: Main Course, Dinner