Daphne Oz's Skirt Steak with Brown Sugar-Spice Rub
Try this flavorful dish!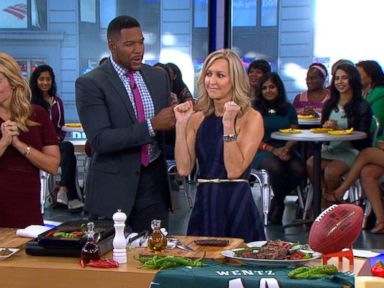 Oz, who co-hosts "The Chew," discusses how to make cooking relaxing and fun - and she shares some of her delicious recipes!
From the kitchen of Daphne Oz
Daphne Oz is a bestselling author and Emmy Award-winning cohost of ABC's "The Chew." Her new cookbook, "The Happy Cook: 125 Recipes for Eating Every Day Like It's the Weekend," features healthy and delicious timesaving recipes. Try this recipe in your own kitchen!
Ingredients
1 tablespoon light brown sugar
1 tablespoon garlic powder
1/2 teaspoon chipotle chile powder
1 teaspoon ground cumin
1 teaspoon dried oregano
11/4 pounds skirt steak, cut crosswise into 4 pieces
4 tablespoons extra-virgin olive oil
Kosher salt
Flaky sea salt and freshly cracked black pepper for serving
Cooking Directions
We make this steak over and over again all summer long because it is the perfect meal to grill: simple, fast, and delicious. The spice rub is extremely efficient—15 minutes with it will do the trick, but overnight is ideal to help the steak get a deep, golden brown crust as it cooks. While you have the grill fired up, throw on a few spicy peppers to serve with the steaks.
Directions:
In a medium bowl, combine the brown sugar, garlic powder, chipotle powder, cumin, and oregano. Rub the mixture all over the steak pieces, place the meat in the bowl, and set aside for 30 minutes (the meat can rest with the spices for up to 24 hours; if preparing more than 30 minutes ahead of cooking, refrigerate).
Prepare a gas or charcoal grill to high heat, or set a grill pan over high heat for 3 minutes. Use a few folded paper towels or a dishrag and long grilling tongs to grease the grill grate with 1 tablespoon of the oil.
Drizzle the steaks with 1 tablespoon of the oil and season with salt on all sides, then set them on the grill. Cook until the steaks have defined and deeply caramelized grill marks and release easily from the grill, 3 to 4 minutes. Flip and repeat on the opposite side to finish cooking to desired doneness, 2 to 3 minutes more for medium rare (the steak will continue to cook while it rests). Remove the steak to a cutting board and let rest for 10 minutes.
Season one section of the cutting board with 1 tablespoon of the oil and a sprinkle of salt. Set 2 of the steak pieces on top of the seasoning and slice into thin strips against the grain. Add the remaining 1 tablespoon of oil and a pinch more salt to the board and slice the remaining 2 steak pieces. This is a Michael Symon trick that allows each piece to get a little extra seasoning from the oil and salt. Transfer the steak and any accumulated juices to a platter and serve sprinkled with sea salt and pepper.
From THE HAPPY COOK by Daphne Oz. Copyright © 2016 by Daphne Oz. Reprinted by permission of William Morrow, an imprint of HarperCollins Publishers.
Recipe styled by Karen Pickus, chef/food stylist, "Good Morning America."
Recipe Summary
Main Ingredients: skirt steak, olive oil, oregano, light brown sugar
Course: Dinner