Slammin' Slimmed-Down Strawberry Daiquiri (Virgin-Style)
Recipe Courtesy of Hungry Girl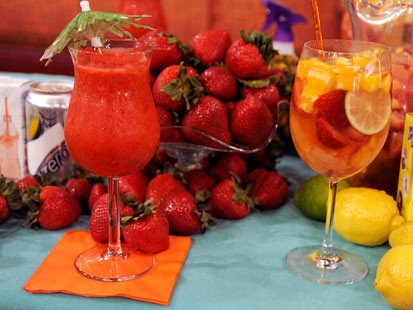 From the kitchen of Hungry Girl
Ingredients
One 2-serving packet (about 1 teaspoon) sugar-free strawberry powdered drink mix (like Crystal Light Wild Strawberry)
1/2 cup diet-lemon lime soda (like Sprite Zero)
6 frozen unsweetened strawberries, slightly thawed
2 tbsp. lime juice
2 cups crushed ice or 10 to 16 ice cubes
Cooking Directions
Combine drink mix with 1 cup cold water in a glass and stir to dissolve. Transfer to a blender.
Add all other ingredients to the blender, and blend at high speed until slushy and uniform. If needed, add a few more tbsp. soda or water.
Pour, add a straw, and slurp that baby up!
Makes 2 servings.
NOTE: If plain strawberry mix is not available, get a blend (like Strawberry Kiwi or Strawberry Banana).
Recipe Summary
Main Ingredients: strawberries, lime juice, ice, soda
Course: Drinks
More Info: Low Calorie