Emeril Lagasse's Slow-Cooked Lasagna
Cook This Low and Slow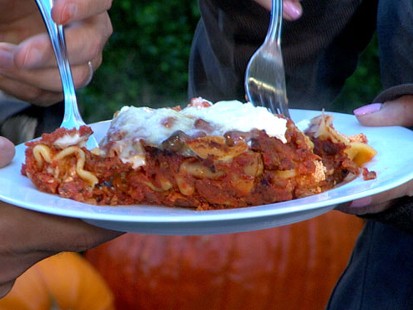 The world-famous chef has just published his 18th cookbook, "Emeril's Cooking With Power."
From the kitchen of Emeril Lagasse
Emeril Lagasse is known for bringing his signature "Bam!" to your dinner table and now, the celebrity chef is upgrading slow-cooker fare. In his new book, "Cooking with Power," Lagasse shares 100 delicious dishes to make in a slow cooker or pressure cooker. Try his slow-cooked lasagna at your next family dinner.
Ingredients
Meat sauce
1/3 pound ground beef
1/3 pound ground veal
1/3 pound ground pork
½ cup chopped celery (about 1 rib)
1 small yellow onion, chopped
3 tablespoons chopped garlic (6 to 7 cloves)
Two 28-ounce cans crushed tomatoes
1 cup homemade beef stock (see page 6) or packaged low-sodium beef broth
1 tablespoon salt
1½ teaspoons freshly ground black pepper
½ teaspoon crushed red pepper
1 teaspoon dried oregano
1 teaspoon dried basil
1 teaspoon dried thyme
1½ teaspoons sugar
Lasagna
One 15-ounce container ricotta cheese
1 egg, beaten
1 package dried lasagna noodles (9 noodles), ends broken and discarded so the noodles are the length of the slow cooker
12 ounces packaged mozzarella cheese, grated
8 ounces sliced provolone cheese
8 ounces fresh mozzarella cheese, sliced
1/3 cup finely grated Parmigiano-Reggiano cheese
Cooking Directions
To make the meat sauce, heat a 12- to 14-inch skillet over medium-high heat. Add the beef, veal, and pork and cook, stirring as needed, until browned, about 8 minutes. Add the celery, onion, and garlic and cook for 2 minutes longer. Stir in the tomatoes, beef stock, salt, black pepper, crushed red pepper, oregano, basil, thyme, and sugar and simmer for 5 minutes. Remove from the heat and set aside to cool. (This sauce can be made up to several days in advance. It freezes well, too.)
Combine the ricotta and the egg in a medium bowl. Stir in ½ cup of the cooled meat sauce.
To assemble the lasagna, add ½ cup of the sauce to a 6-quart slow cooker. Arrange 3 lasagna noodles, side by side, on top of the sauce. Place 6 heaping tablespoons of the ricotta mixture on the noodles and spread it out evenly. Top the noodles with one-third of the grated mozzarella, one-third of the provolone slices, and one-third of the fresh mozzarella. Top with 2 cups of the meat sauce. Make two more layers without adding the last layer of cheeses.
Cook on low for 4 hours.
Add the reserved cheeses and the Parmesan to the lasagna and replace the lid. Turn off the slow cooker and allow the cheese to melt and the lasagna to set up by letting it cool for at least 30 minutes before serving.
This recipe was styled by chef Karen Pickus for Good Morning America.
Recipe courtesy Emeril Lagasse, from Emeril's Cooking with Power: 100 Delicious Recipes Starring Your Slow Cooker, Pressure Cooker, and Deep Fryer, HarperCollins Publisher, 2013, copyright MSLO, Inc., all rights reserved
Recipe Summary
Main Ingredients: ground beef, ground veal, ground pork, crushed tomatoes, lasagna noodles, ricotta cheese, mozzarella cheese
Course: Casserole, Dinner, Main Course, Pasta, Party Platter